Chine / China
By Gaetan on Tuesday , 3 February 2009, 14:56 - Travel - Permalink
La chine est un pays vraiment immense et je n' avais pas beaucoup de temps libre pour la visiter. Nous avons quand reussi a la traverser en deux semaines , moi je dis pas mal. Pekin la capitale , c' est par la que nous avons commence, apres un voyage de 24 heure de train. Forcement qui dis chine dis grande muraille. C' est donc notre permiere visite. Notre choix c' est porte sur une partie peu touristique . Nous avons pu marcher pendant un peu plus de trois heures sans rencontrer de touriste. Le tout entoure de paysages magnifique, ca compensait bien les temperatures entre -10 et -15 degres au petit matin. La visite se poursuit par la cite interdite et autres temples Pekinois. Nous en profitons aussi pour faire un peu la fete , merci benoit aux autres expats de nous avoir accueilli .

Ensuite , direction un petit village traditionnel appele Pingyao. Le voyage est un peu moins fun, 12 heures debout dans un train bonde. Experience a deconseiller meme si maintenant je suis content de l' avoir fait. Pingyao est tres typique et bien conserve , seul desagrement la polution et les poussieres de charbon. Nous nous echapons pour une journee dans les alentours. Au programme une demeure traditionnelle compose de plein de petite cours. Puis un petit village traditionnel avec des tunnels, la guide parlant seulement chinois , impossible de savoir a quoi ils servaient.

Retour dans une grande ville pour la prochaine etape : Xi-an. Ca sera un passage tres rapide , la ville en soit ne nous attire pas trop. C'est la que ce trouve l' armee de terre enterree. Nous faisons donc un petit tour comprenant la visite du bampoo village datant du neholitique , puis nous grimpons sur le mausole de l'empereur a l' origine de l' armee en terre. Nous finissons le periple par ces fameux guerrier. C'est vraiment suprenant de voir ca, tout les gerriers sont differents et uniques.

Le lendemain nous partons pour notre derniere etape en chine , Guilin et Yangshuo. En avion cette fois ci , les trains etant complet a cause du nouvel an chinois.Aux alentours de Guilin nous passons une journee a marcher a travers les rizieres en terrace de la colonne du dragon. Encore une fois des paysages magnifiques meme si les rizieres ne sont pas verte a cette epoque. C' est l'occasion de traverser des petits villages traditionnels, comme Ping' an et Dazhai.Nous y croisons aussi des droles de compagons de marche , une vache , un cochon, des canards ... Yangshuo est tres celebre pour ces pain des sucres , des pics de "karsh" . Dans ce decors nous alternons les activites , marche ,velo et ballade en bateau sur la riviere Li. Nous avons meme droit un cours de cuisine pour tester le "Beer Fish" , plat local.

J'ai agreablement surpris par la chine malgre le peu temps passe. Le seul cote un peu frustrant c' est la langue, peu de chinois parlent anglais. Du coup il n'est pas facile de communiquer avec les locaux et de reussir a les connaitre un peu. Le temps passe vite , il est maintenant le temps de partir pour les montagnes du Nepal.

---
China is a huge country and I didn't have much time to visit. We managed to cross it up and down in two weeks, I can say "not bad !' . Beijing is the capital that's where we started , after a 24h long journey by train. Who's says China thinks Great Wall , that was our first visit. We choose a less touristic part of the wall. That was a great idea, we were able to walk on the wall nearly three hours with out seeing any tourist. The view was breath taking , beautiful landscape every where we looked. It was a good compensation for the morning temperature , between -15 and -10 Celsius degrees.Then , we visited the forbidden city and others temple of Beijing. We also took time to party , thanks Benoit and the others expat for welcoming us.

The next stop is a traditional town called Pingyao. This time the journey is not really fun , we spent 12 hours standing in a train over crowed. It's a not a good experience , but now i can say I'm glad I did it. You have to try local way of traveling.Pingyao is a really typical town and well conserved. The only down side is the pollution mainly due to coal dust. Next we went of town to visit the surroundings. We saw an old huge courtyard house , really Chinese with lots of small areas. Then we visited a traditional village with small underground passages, the guide only spoke chinese, so we still don't know what they were used for.

Back in a big town for the next stop : Xi-an. It was a really short stay , we didn' t enjoy the city. That's were the Terracotta Army is. So we booled a small tour including a neoholitic village called Bampoo, then we climbed up the mausoleum of the emperor who built this army. We finished by those famous warriors. It's really amasing to see that , every warriors is unique and really detailed.

The next day we left for our last stop in China , Guillin and Yangshuo. Flying this time , trains were all full due to the coming Spring festival . Around Guilin we spend a day hiking through the dragon backbone rice terrace. Once again , wonderful landscape, even if rice field are not green at this time of the year. We crossed some traditional village , like Ping' an and Dazhai. We met also some strange walking companion , a cow , a pig , some ducks .... Yangshuo is well known for its landscape of karsh peaks. In this background we alternate different activities , walking, biking and a short cruise on the Li river. We even had a cooking lesson , to test the local dish " Beer Fish " . It' s wonderfull with a fresh beer.

China surpised me in a good way, some lovely places. The only down side is the language , few Chinese speak english. So it' s not easy to speak with local people and get to know them. Time is flying by , it's now time to go to the Nepali's mountains.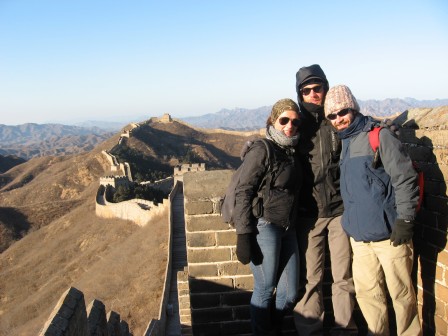 L'equipe sur la grande muraille / The team on the great wall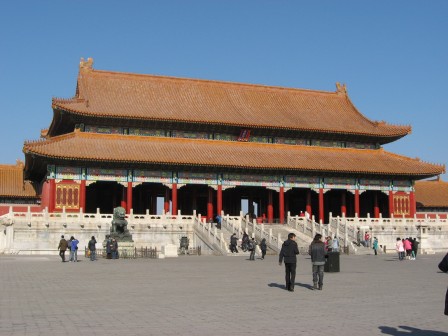 La cite interdite / The forbidden city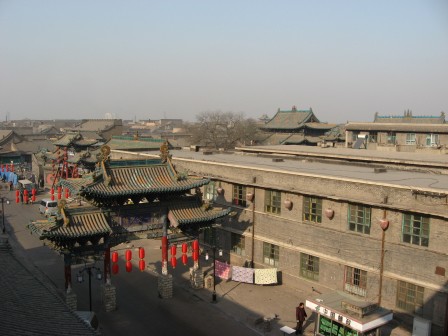 L'arche centrale de Pingyao/ The main arch of Pingyao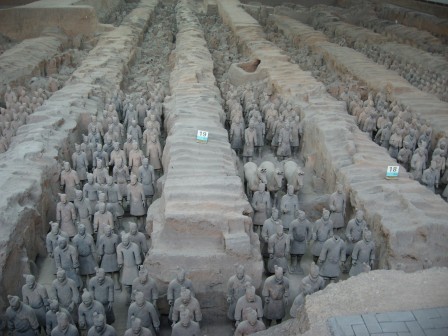 Une partie des guerriers de terre / Some of the terracotta warriors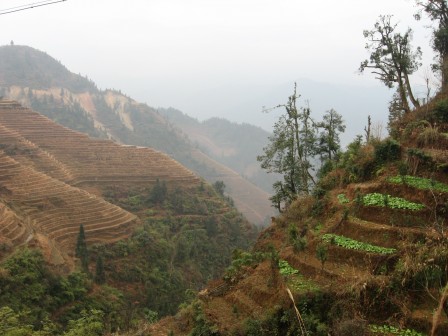 Les rizieres en terrace de la dorsale du dragon/ Dragon backbone rice terrace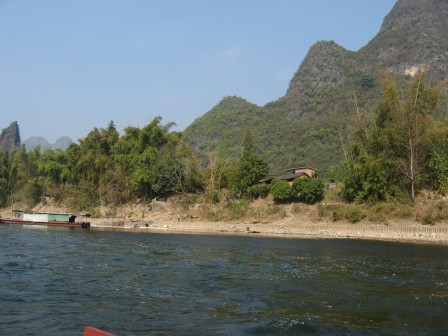 Les pain de sucres de Yanshuo/ Some karsh peak of Yangshuo