Un apercu des Philippines / A glimpse of Philippines
By Gaetan on Saturday ,30 May 2009, 11:27 - Travel - Permalink
Nous arrivons par le nord , Manila pour commencer. Choc, c'est une ville vraiment mixee , en quelques rues nous passons du centre commercial climatise au quasi bidon ville.Plus choquant les enfants qui font la manche. Nous n'etions pas trop prepare pour ce coup la. Nous prenons quand meme le temps de visiter intramuros , un quartier comportant des vieux batiments , un fort et des eglises, reste de l'influence espagnol.
We arrive in the north , Manila for a start. Surprise , it's a really mixed city , from one street to another we go from big air con malls to almost slum area. More shocking , children begging. We didn't really expected that. We still take time to visit intramuros , a neighborhood with old buildings, a fort and churches last reminder of spanish influence.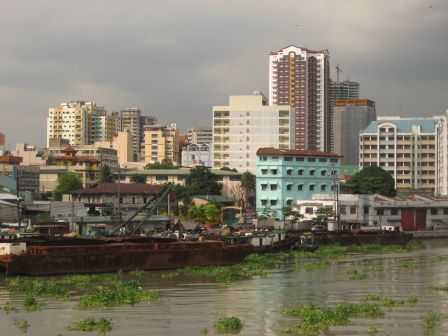 Manila
---
N'etant pas trop enchante par la ville nous nous enfuyons vers Banaue. C'est la que ce trouverait la 8eme merveille au monde, les rizieres en terraces (ceux qui suivent vont dire : encore ... ). La valle offre une belle vue de riziere toute verte , ca change de celles que nous avons vu en Chine. Un petit trek nous amene a un petit village perdu dans la montagne, entoure de riziere , vraiment un endroit joli et reposant. Les changements climatiques sont ici a l'oeuvre , il pleut tout les jours en plein ete. De memoire de Philipin ca n'est jamais arrive aupravant. D'un cote personne ne se bat pour l'irrigattion , mais de l'autre ca entraine des glissements de terrain meurtrier.
We are not really found of the city , so we flee toward Banaue. It's there that you can find the so called eight wonder of the world, rice terraces (those who follow are going to say : again ...). The valley offers a great vue on green rice fields , different from those we saw in China. A small trek brings us to a small village lost in the mountain surrounded by rice terrace, really a lovely and relaxing place. We can see there the effect of climate change, it's raining every days in summer. As far as Philipino memories goes , it never happen before. On one side , no one is fighting for water but on the other side , they are some deadly landslides.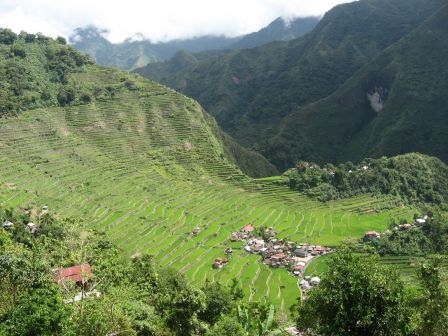 Riziere en terrace autour de Batad/Rice terraces around Batad
---
Apres le nord , nous partons nous refugier sur Sikijor, une petite ile au milieu des Philippines. Un endroit vraiment relaxant. Tout le monde est tres gentil avec nous, partout ou nous passons les gens nous disent bonjour. Nous avons l'occasion de decouvrir la passion des philipins pour les coqs. Surprenant comment ils peuvent etre fier de leur animal. Siquijor c'est aussi une ile reputee pour ses guerisseurs et ses sorciers. Nous avons ete voir la celebrite local , un "wack wack docteur" , sorte de marabout . Le personnage est impressionnant , toujours alerte a 98 ans , on lui donnerait a peine 80 ans. Il a reussi a trouver le probleme de notre ami juste en verifiant son poul ! Superbe rencontre.
After the north , we take refuge on Sikijor , a small island in the middle of the Philippines. A really quiet and resting place. Everybody is really friendly with us , everywhere we go people greet us. We discover the Philipino passion for rooster. Amazing how proud of their animal they can be. Sikijor is also known for its healers and wizards. We visited a local celebrity , a "wack wack doctor" , a healer. The character is impressive , really lively besides his 98 years, looks like he is only 80. He managed to find our friend's problem just by checking her pulse ! Wonderful meeting.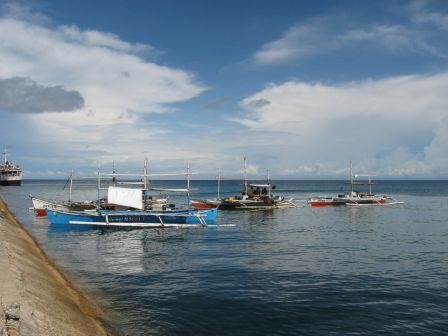 Bateaux de pecheurs/Fishing boats
---
Le passage par les philippines a ete cours , mais il donne envie d' en voir plus. Pour peu que l' on s'eloigne des grosses villes , les philipins sont tres acceuillant. Autre aspect tres surprenant , ils sont tres porte sur la proprete . il y a des poubelles publiques partout, different des autres pays d'Asie du sud est. Un pays qui meriterait que j'y revienne , rien que pour pouvoir nager avec les requins baleines. Il est temps de quitter notre havre de paix , nous partons en direction d'une autre archipelle d'iles , l'Indonesie.
Our stay in the Philipinnes was short , but now I want to see more. If we go outside big cities , Philipinos are really welcoming. Other surprising fact , they are really clean , they are public bins everywhere, different from other country in south east asia. A country worth going back to , even only to swim with whale shark.It's time to leave our resting place , we are going to another archipelago , Indonesia.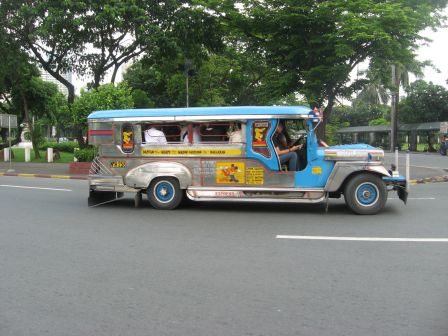 Jeepney , bus locaux inspires des jeep americaines /Jeepney , local bus derived from american jeep