Interlude a Tokyo / Interlude in Tokyo
By Gaetan on Friday ,10 July 2009, 23:40 - Travel - Permalink
Notre dernier stop sur le continent asiatique est le Japon . Plus precisement Tokyo, ayant ajoute les Phillippines au programme nous avons seulement quatre jours pour cette etape. Sans grande surprise la ville est super developpee et propre. Certainement en avance sur nos grosses villes europeennes. Il est plutot facile de ce deplacer et de se reperer , les panneaux ont en general le double affichage japonnais anglais. La ville est decoupee en differents quartiers chacun ayant une atmosphere et charme propre :
Asakusa : vieux quartier centre autour du Senso-ji temple. Il y a encore des magazins traditionnels.
Harajuku : le quartier trendy , peuple de jeune fashion et de boutiques pour les habiller.
Shinjuku : le quartier des grattes ciels , surtout des bureaux. Le Tokyo Metropolis Government office permet d´admirer Tokyo des hauteurs du 45ème étages.La gare de train du quartier est la plus frequente au monde.
Akihabara : aussi nommé Electric city. La capitale des geeks. Il est rempli de magazins Hi-tech et tout pour les fan de mangas.
Shibuya : quartier dedié au shopping. Location des passages pietons les plus surpeuplés au monde.
Roppongi : quartier internationnal de Tokyo , tres animé le soir. C´est aussi la que se trouve la tour de Tokyo , pale copie de notre tour Eiffel.
Ginza : centre de shopping influencé par le chic francais, printemps, Channel et autres.
Our last stop on the asian continent is Japan. To be precise Tokyo , Phillippines was added to the trip, so we have only four days for this step. Without surprise , the city is over developed and clean. Most propably ahead of our big european cities. It´s pretty easy to travel and find where we are, signs are written both in Japan and English. The city is separated in different neighbourhood each one with it´s own athmosphere and charm :
Asakusa : old district center around Sensoji temple. There are still some traditionnal shops.
Harajuku : trendy district, filled with fashion teenager and shops to dress them.
Shinjuku : skyscrappers district, mainly offices. You can admire Tokyo from the height of the 45 floor of the Tokyo Metropolis Government Office. The train station there is the busiest in the world.
Akihabara : also named Electric City. It´s the geek capital. It´s full of hitech shops and everything for mangas fan.
Shibuya : another shopping district. It´s there that you can find the busiest pedestrian crossing.
Roppongi : international district, busy in the evening. It´s where you can find Tokyo tower , a bad copy of the Eiffel tower.
Ginza : a shopping district , influenced by french . You can find printemps, Channel and others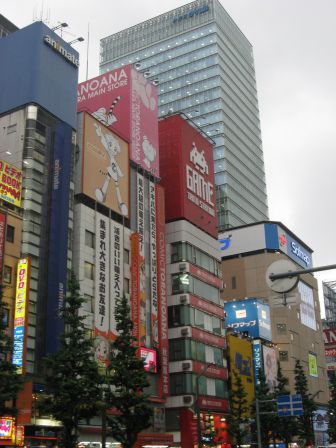 Immeuble dans Akihabara/ Buildings in Akihabara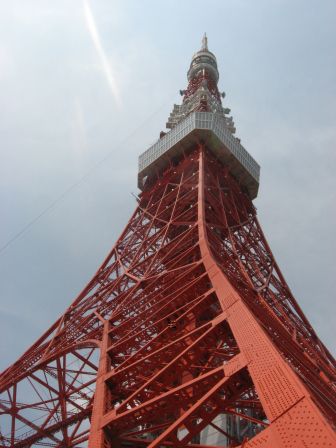 Tour de Tokyo , pale copie de la tour Eiffel/ Tokyo tower , a bad copy of the Eiffel Tower
---
Nous ne pouvions visiter le Japon sans gouter aux fameux sushis. C´est d´ailleur une des premieres choses que nous avons fais en arrivant, un vrai delice. Autre specialite , les sashimis (poisson cru), il n´y a pas meilleur endroit que le marche au poisson pour tester ca. Un matin nous nous sommes donc promenes dans les dedales du marche. Une vrai fourmiliere remplie de vendeur, chariot electrique , acheteur de toute sorte et bien sur de multitude de poisson. Un site impressionnant! Pour le petit dejeuner , nous allons nous installer dans un petit restaurant de sashimi. Le proprietaire etait tout content de nous avoir, il a meme insiste pour prendre une photo. Mais malheur , il a laisse tomber mon appareil photo. Celui ci n´ a pas survecu a la chute. Le proprietaire c´est tout de meme empresse de proposer un echange avec le sien , afin de reparer sa faute. Ca va je peux toujours prendre des photos. Les sashimis etaient tout de meme delicieux.
Nous avons aussi retrouve Pierre apres quasiment 3 mois de separation. De nouveau une equipe de trois pour le reste du voyage.
We could not visit Japan without trying the famous sushis. It was ,by the way, one of the first thing we did , delicious. Another speciality , sashimis (raw fish), there is no better place than the fish market to try that. So, one morning we went into this labyrinth. It´s really like an ant hill filled with sellers, electric carriers, buyer and of course tons of fish. An impressive site! For breakfast, we went into a little sashimi restarant. The owner was really thrilled to see us , he insisted on taking a picture. But unlucky , he dropped my camera. This one didn´t survive the crash. Fortunately , the owner offered to exchange the dead camera with his as a compensation. So I can still take pictures. By the way, those sashimis were wonderfull
We also meet again with Pierre after almost 3 month withour him. Again a team of three for the end of the trip.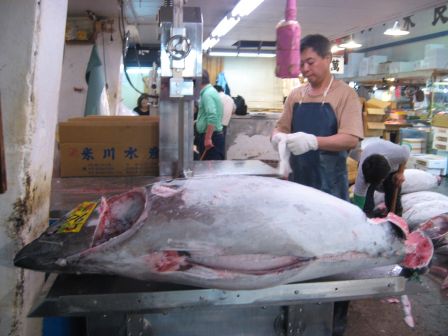 Quel morceau pour vous ?/ Which part for you ?
---
Le Japon semble etre un pays interessant. Il merite un autre visiste , avec plus de budget et temps la prochaine fois. Changement de continent , nous embarquons pour 15 heures de vol destination le Mexique.
Japan seems to be an interesting country. It deserves another visit , with more budget and time one the next one. New continent , we board for 15 hours flight to reach Mexico.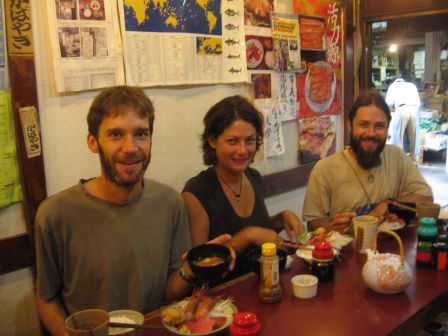 L'equipe avant le crash test de mon appareil photo / The team just before my camera crash test