Suivant les rives du lac Titikaka, nous arrivons a Copacabana en Bolivie. Ville un peu tourisitique mais sympathique pour une entree en douceur dans ce nouveau pays. Par chance nous arrivons juste apres la fete de la Pachamama (Déesse de la terre , assimilé a la Vierge Marie). Nous assistons tout de meme a la fin des ceremonies d'offrande. Elles consistent en general a faire mousser de la biere , lancer des petards ,offrir des miniatures de maisons , vehicules et meme offrir de la fausse monnaie. Encore un bel exemple du mix des croyances anciennes et de la religion Catholique. Autre fais surprenant , ajacent a la cathedrale se trouve une petite piece sombre , ici les boliviens viennent inscrire a la cire leurs souhaits , nouvelle maison , enfants , travail etc... .Nous allons ensuite faire un petit tour sur l'Isla del Sol avant de poursuivre notre chemin direction La Paz.
Following the lake Titikaka's shore we arrive at Copacabana in Bolivia. A bit of tourist town but a lovely place to slowly discover this new country. Luckyly we arrive just after Pachamama celebration ( earth godess , assimilated to the Virgin Mary). We could see some offering ceremonies.They often consist in throwing beer , bangers, offering mini houses , cars and sometimes fake money. Again a good example of mix between old belief and catholic religion. Another surprising fact, next to the cathedral there is a small dark room , here bolivian come and write on the wall with wax their wishes, new house , children, job etc ... Then we go and have a look at Isla del Sol before following our way down La Paz.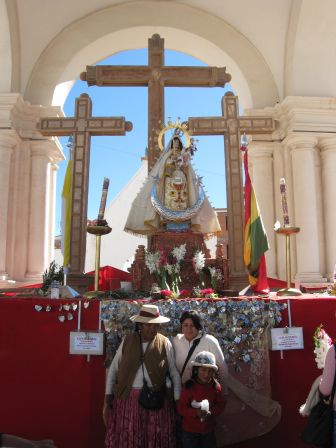 La Pachamama et des pelerins /Pachamama and some pilgrims
---
La Paz , ville surprenante avec le centre ville dans le creux de la valée et les faubourgs sur les colines alentours, par contre la ville n' a pas grand interet en soi. Nous partons ensuite pour le trek Choro , un chemin pre-inca. Nous sommes partis de la Cumbre , 4850 metres (plus haut que le Mont Blanc !) pour descendre la valee de la riviere Choro. Trois jours de marche a travers des paysages changeant , de la pierre et herbe rase jusqu'a la foret luxuriante. Une bien belle ballade , pontuee par la rencontre surprenante d'un japonnais , il tient un camping le long du chemin.Une courte pause a La Paz et nous embarquons pour dix-huit heures de bus direction Rurrenabaque. Voyage plutot inconfortable , les trois quart de la route etant de la piste. Nous passons ensuite trois jours dans la jungle, prémices de la foret amazonienne. Notre guide, tres interessant, nous a fais decouvrir nombreuses plantes et animaux. Nous avons apercu entre autre , cochons sauvages, aras , singe , ecureil , tarentule et autres insectes. Pas de sangsues cette fois si mais je suis revenu avec une tique. Nous remontons une fois de plus vers La Paz. Pierre et moi embarquons pour la descente de la route de la mort en VTT. Trois heures de descente sur de la piste bordée par un ravin. Pas de mort a deplorer , juste une petite frayeur pour ma part , derapage dans un virage aborde un peu trop vite.
La Paz, surprising city with the town center in the bottom of the valley and suburbs on hills all around, on the other side there isn't much to see. Then we go for Choro trek, a pre-inca trail. We left from Cumbre, 4850 meters hight (higher than Mont Blanc in France !) to go down the Choros river valey. Three days walking across changing landscape , from stone and short grass to luxuriant forest. A lovely walk , ponctuated by the surprising meeting of an old japanese guy, he is taking care of a camping along the trail. After a short break in La Paz , we board a bus for an 18 hours trip to Rurrenabaque. Journey not really comfy , three quarter of the road is only dirt trail . There we spend three days in the jungle , beggining of the amzonian forest. Our guide , really interesting, makes us discover lots of plants and animals. We saw wild pigs , aras, monkeys, squirrels , tarentula and other insects. No leechs this time but I came back with a tick. We go back to La Paz once more. Pierre and I decide to go for montain biking down the death road. Three hours going down a dirt trail with a big ravine on one side. No one is dead , only a small fright for me , sliding in curve while going to fast.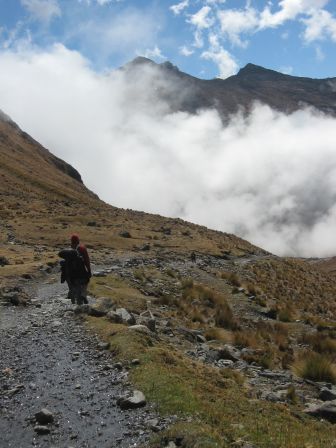 Descente dans les nuages, valee de Choro /Going down trought cloud , choro valley
---
Nous poursuivons notre traversée de la Bolivie pour aller a Potosi. Ville connue pour ses mines d'argent, elles contibuerent a la richesse de l' Espagne autrefois. Elles sont toujours exploitées de nos jours , il en sort surtout de l'etain ainsi qu' un peu de zinc et d'argent. Nous avons pu visiter une des 180 mines, l'occasion de decouvrir les conditions de travail difficiles des mineurs. Ils passent plus de 8 heures par jour sous terre , dans la poussiere et la chaleur. Ils font tout " a la main " , ici pas de marteau piqueur et ni d'asenceur. Au moins une partie du prix de notre visite revient aux mineurs.Etape suivante , la ville baroque et capitale , Sucre. Une bonne ville pour se reposer et admirer l'architecture des églises.Nous partons ensuite pour Uyuni, point de départ de la visite du Salar. Le Salar c' est une zone immense recouverte de sel , le tout situé sur les haut plateaux. Vraiment un des paysages les plus fou que j' ai pu voir , une etendue blanche a perte de vue entouré de montagnes. Nous avons passe une nuit dans un hotel entierement construit en sel. Ensuite nous continuons la traverse des hauts plateaux desertiques.Le desert est ponctue de lagunes et formations bizares de pierre. Nous avons experiencé une petie panne au milieu de nul par , heureusement nortre chauffeur mcgiver a reussi a reparer le frein avec un bout de fil de fer!. La fin du tour nous amene au Chili, étape non prevue mais San Pedro de l' atacama est un bon endroit pour se relaxer avant de partir pour l' Argentine.
We follow our way crossing Bolivia to go to Potosi. Town known for its silver mine , they contributed to Spain wealth in the old days. They are still in use nowadays, they mainly produce tin , and a bit of zinc and silver. We were able to visit one of the 180 mines. A good way to discover miners hard working condition. They spend more than 8 hours underground everyday , in dust and heat. They do everything "by hand" , no lift or mechanic drill here. At least part of our visit price go to the miners. Next step, baroque city and capital , Sucre. A good city to rest and admire church architecture. Then we go to Uyuni , starting point to visit the salar. The salar is a huge area cover with salt , situated on hight plateau. Really one the most amazing landscape I ever saw, a big white spread out surrounded by mountains. We spend a night in a salt hotel , even beds were in salt. After , we follow our road across desertic plateau. The desert is ponctuated by laguna and small stone sculpture. We experience a breakdown in the middle of nowhere , luckyly our mcgiver driver managed to sort out the brakes with a piece of iron wire ! The end of the trip leave us in Chile , not a planed stop but San Pedro de l' Atacama is a nice place to relax before going to Argentina.
Perdu dans une mine de Potosi /Lost in some mine , Potosi
---
Plus haut que le Perou , la Bolivie possede aussi de superbe montagne et des paysages vraiment fou , j' ai adore. C' est quand meme plutot pauvre comme pays, on croise tout le temps des femmes en habit traditionnel , jupe et chapeau melon.
Higher than Perou, Bolivia owns also lovely mountains et crazy landscape, I loved it. It's still a poor country , we often came accross women in traditional clothes , skirt and melon hat.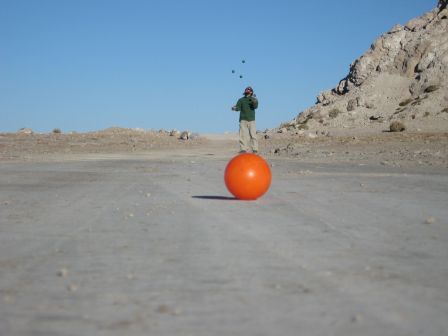 Jongle pres du salarde Uyuni/ Juggling next to Uyuni Salar