Apres mon marathon de deux jours de bus j'arrive a Siem Reap, ma premiere etape au Cambodge. La je m'associe a un chilien et un anglais pour les prochains jours . Notre premiere journee se passe a decouvrir la ville et choisir la meilleur option pour la visite des temples. Le soir nous profitons de l'animation locale dans Pub Street. Vers une heure du matin les locaux commencent a mettre l'ambiance dans la rue.C'est le nouvel an boudhist ! Bientot tout le monde se retrouve a danser , touristes et locaux. Le tout ponctue par les gamins qui nous aspergent d'eau et de talc. J'apprendrais plus tard que c'est pour nous purifier en vue de la nouvelle annee. C'est un bon debut pour le Cambodge. Le lendemain nous prenons la direction des temples d' Angkor. C' est vraiment impressionant , les temples et batiments sont immenses. Une des merveilles cree par la main de l'homme comparable aux pyramides. Ta Phrom est facinant , le temple est reste dans l'etat dans lequel les explorateurs l'ont trouve. Ca laisse un parfum d'aventure , on se prendrait pour Indiana Jones. Apres les visites,Je laisse mes compagnons poursuivre leur route et je rejoins Battambang.
After my two days bus marathon , I arrive in Siem Reap, my first stop in Cambodia. There I join a chilean and a british for the next days. Our first day is fill up by looking at the town and checking the best option to visit the temples. On the evening we enjoy the local animation in Pub Street. Around 1 AM locals start the party in the street. It's buddhist new year. Soon everyone start dancing , locals and tourists. Everything punctuated with kids throwing water and talc on us. As I will learn later , it 's to purify us for the coming year. It's a good start for Cambodia. The next day, we head toward Angkor temples. It's really impressive , temples and buildings are so huge . One of the wonder build by human hand , it can be compare to the pyramids. Ta Phrom in particular is fascinating, the temple is in the same state as the way it looked when explorer found it. It's a feeling of adventure , one could feel like being Indiana Jones.After the visit, I leave my companion to go to Battambang.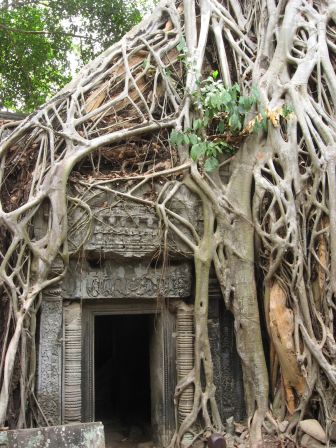 une entree de Ta Phrom / an entry of Ta Phrom
---
La ville n'a rien de special en elle meme , par contre c'est un bon point de depart pour visiter la campagne environnante.J' ai la chance de rencontrer un cambodgien sympatique. Il est directeur d'une ecole d'anglais fonctionnant avec des benevols : Slarkram Englisch School.Il me fais faire un tour dans la campagne et me montre differents temples.A chaque fois ils sont remplis de gens fetant le nouvel an. Puis nous rejoingnons ses amis pour nous aussi faire la fete. Nous prenons le "mini tracteur" avec les gens du village, enfans et grands parents tous ensemble. C'est partie pour une ballade campagnarde. Seulement cette fois ci, a chaque groupe de maison ou village traverse, nous sommes asperges d'eau. Resultat je rentre trempe , au moins je suis purifie pour la nouvelle annee. C'etait super de partage ces moments avec des cambodgiens.

The town is nothing special , but it is a good base camp to look around the country side. I was lucky to meet a friendly cambodian. He is the head master of an english school working with volunteer : Slarkram Englisch School. He shows me the countryside around and we visit many temples. Each time they are full of people partying for the new year. Then we meet up with some of his friends to celebrate as well. We took the "mini tractor" with people from the village, kids and grand-parents all together. Let's go for a wandering in the countryside. This time , with each group of houses or village crossing, people throw us buckets of water. I end up soaking wet , at least i am purified for the next year. I was great to share such things with cambodians.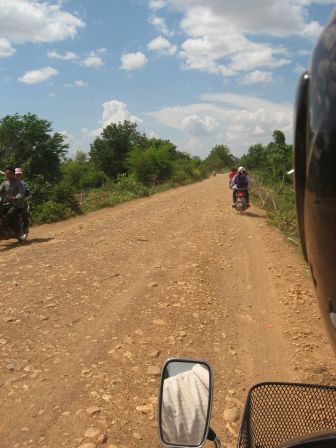 Les routes de la campagne a dos de moto / Dirt road from the back of a mortorbike
---
Pour la suite , je vais me reposer du cote de Kampot , une petite ville situee en bord de riviere.J'en profite pour decouvir la campagne et ses chemins terreux a dos de deux roues. Je fais la decouverte des grottes guide par les enfants du coin. Coup de chance j'ai aussi pu visiter le Bokeor National Park , il est normalement ferme pour travaux. En projet un casino qui va surement defigurer la colline. Pour le moment il est toujours possible de visiter la ville fantome et son palace . Les traces de la guerre accompagnent les visiteurs admirant la vue. La ville fut theatre d'affrontement entre cambodgien et vietnamien a la fin du regime des Kmers Rouges. Je vais ensuite jouer a Robinson Crusoe sur Rabbit island. C'est une petite ile avec seulement une vingtaine de bungalows. En faisant le tour on se croirait sur une ile deserte. Un bon moyen de profiter de la plage.
Next , I went to Kampot for a rest , a small town situated next to a river. I take the opportunity to discover the countryside around and its dirt road on a motorbike. I discover the local caves helped by local kids , they are great guides. Lucky me , I was able to visit Bokeor National Park, it's normally close due to building work. Their are planning to build a casino , which surely is going to destroy the beautiful hill. For now it's still possible to visit the ghost town and it's palace. Marks of war are part of the view as visitor can see. Fighting between camodgian rouge and vietnamese took place there at the and of Kmer Rouge regime. Then I changed into Robinson Crusoe to go to Rabbit Island. A small island with only about twenty bungalows. Walking around one could believe the island is deserted. A good place to enjoy the beach.
Rabbit island
---
La prochaine etape m'amene a Sihanouk ville , ou je retrouve enfin Adele. De la nous rejoignons Phnom Penh. J'y visite S21, un musee installe dans une ancienne prison datant du regime de Pol Pot. Ca fais froid dans le dos de decouvrir les horreurs des Khmers Rouges. Une facon de decouvir l'histoire et de comprendre un peu mieux les cambogiens. Je teste aussi les premices de la saison des pluies, une heure de pluie intense par jour. Resultat , certaines rues sont inondees , nous avons de l'eau jusqu'au genoux par endroit ! Il est vraiment temps de s'envoler vers la Malaisie.
The next step took me to Sihanoukville , where I finally meet up with Adele. From there we go to Phnom Penh. That's where I visited S21 , a musem situated insite an old prison from Pol Pot regime. It's frightening to discover horrors from the Khmers Rouges. A good way to discover history and to understand a bit more cambodian people. I also experienced the beginning of the wet season , an intense raining for one hour each day.. As a result, some streets were flooded , we had water up to the knees in some places ! It's really time to fly to Malaysia
---
J'ai un sentiment mitige sur le Cambodge.Il y a des endroits sympathique, et c'est meme l'aventure de parcourirs les routes terreuses en moto. A cote de ca, les cambodgiens ne sont pas tous tres acceuillant. J'ai quand meme fais de bonnes rencontres et les temples de Angkor sont quelque chose a voir.
I have a mixed feeling about Cambodia. They are some lovely places , and it's even a bit an adventure to travel on dirt road with a motorbike.On the other hand , cambodians are not always really welcoming . I was lucky enough to meet nice people and of course Angkor temples are something to see.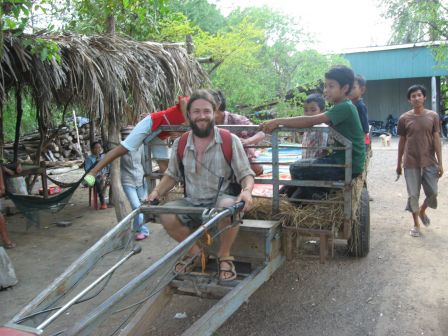 Pilote de "mini tracteur" / Trying the "mini tractor"