Namaste tout le monde,
Apres un immense pays nous voici dans les montagnes du Nepal. Nous avons principalement visite Kathmandu et sa vallee. Kathmandu est une ville vraiment surprenante, il y a des temples a tout les coins de rues , sans oublier les detritus juste a cote des marches aux legumes! Le tout dans un mix d' odeur , des dechets a l'encens en passant par la pollution. Marcher dans les rues est toute une aventure . Prennez des voitures , velos , rickshaw , pietons , enfants ,poules et vaches sacrees , melangez le tout et placez ca dans une petite rue et vous arez une idee de la circulation.A ne pas oublier , il n'y a pas de regle et tout le monde klaxonne a tout va, priorite au plus gros.

Nous avons surtout visite les temples ,hindous et boudhiste ,les religions principales. Encore que tout est melange , les hindous priant aussi Boudha.

Dans nos deplacements nous avons fais la connaissance d' une jeune famille Newari. Nous avons passe deux nuits chez eux . L' occasion de decouvrir leur style de vie. Pas facile de communiquer avec les parents mais un sourire suffit a faire passer le courant. Ce fut vraiment inoubliable de partager un Dal Baht (plat local ) en leur compagnie .La famille et leurs amis nous ont ensuite conduit a un pelrinage Hindous. Nous avons pu decouvrir leurs rites religieux. Biensur nous sommes tous revenus avec une tikka sur le front.

Le Nepal sans un trek c'est rater quelque chose , nous avons donc choisi un petit trek autour de la vallee. Nous avons pu nous ballader dans contreforts de la chaine Himalayenne. Les chaines de montagnes sont vraiment magnifiques. La prochaine fois je vais me faire un plus grand trek pres des hautes montagnes.

L'etape suivante est l' Inde. Le voyage la-bas est toute une histoire . Nous avons mis environ trois jours a arriver a Varanasi (Benares). Avec Pierre nous avons pris le bus ,avant d' etre stoppe un jour au milieu du voyage a cause d' un blocage de route. Le lendemain , nous avons pris un camion de Police , puis un bus puis une charette, puis un train et un second pour enfin arriver a bon port. Le nepal va me manquer , les gens y sont vraiment acceuillant et serviables. Heureusement, l'Inde s' annonce pleinne d' aventures


---

Namaste everybody,
After a big country, we arrived in Nepali's mountains. We mainly visited Kathmandu and it's valley.Kathmandu is really an amazing city , there are temples at each street corner, and also garbage just next to vegetables markets ! Everything surrounded by different odors , from garbage to incense and of course pollution. Walking in Kathmandu's streets is really an adventure. Take cars , bikes , rickshaws , pedestrians , kids , chicken and holly cows, shake them and put them in a narrow street and you will get an idea . Not to forget , there are no rules and everybody honk , priority to the bigger.

We mainly visited temple , Hindus and Buddhist, the main religion , but everything is mixed up , Hindus pray also Buddha.

During our wandering we met a young Newari family, we spend to nights at there place. A good way to discover their lifestyle. It was not easy to communicate with parents but a smile and the accepted us. It was really wonderful to share a Dal Baht (local dish ) with them . Then ,the family and there friends took us to an Hindu pilgrimage. We were able to discover their religious rites. Of course , we all came back with a tikka on the forehead.

Nepal without a trek is missing something., so we choose a small one around the valley. We walked on the foothills of the Himalaya. The mountains are really wonderful. Next time I really have to go for a big trek closer to the mountains.

The next stop is India. Going there is itself a short story. It took us around three days to arrive in Varanasi (Benares). Pierre and I took a bus , and then had to stop in the middle cause of a road block. The next day , we took a police truck , then a bus , and then a chariot , next a train and a second to finally arrived. I am going to miss Nepal , People are really friendly and helpful. Fortunately India seems full of adventures.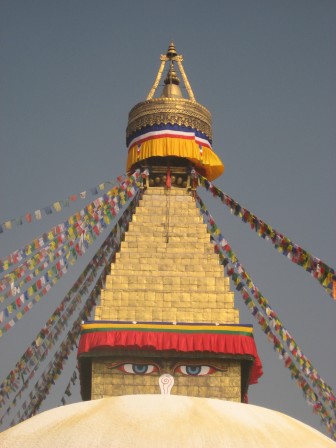 Stupa de Boudha Nath / Stupa of Boudha Nath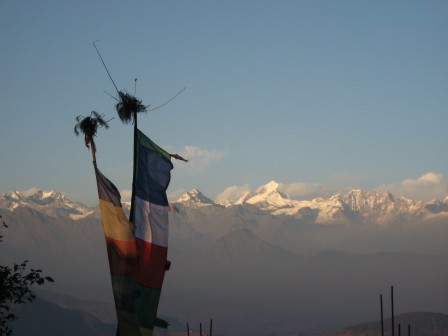 La montagne des deesses / The goddess mountain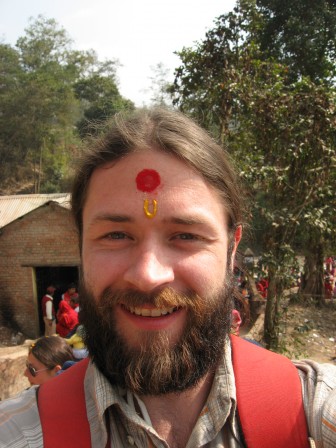 Ma tikka / My tikka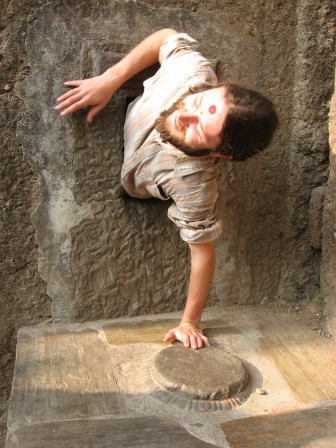 Je suis passe , je suis donc maintenant un saint :-) / I went through, I am now a saint :-)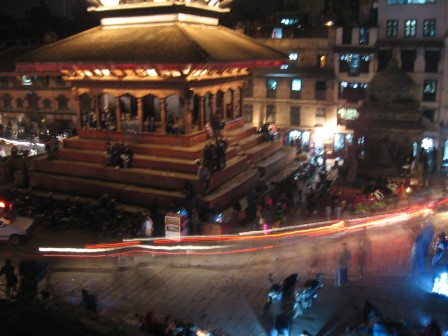 L'animation de Durbar Square a Kathmandu / Busy Durbar Square in Kathmandu