Notre periple commence par Java , l'ile principale economiquement parlant. Notre premiere mission , recuperer Julie une amie d' Adele. Mission rapidement conclue a Jakarta. Nous visitons un peu cette ville qui est par ailleur la capitale. C'est un gros melange de nouveau , vieux et delabre avec des mix parfois bizare. Le vieux quartier possede des beaux batiment , reste de l'occupation neherlandaise. Ville suivante , Jojakarta, ville animee par les universite. La population est y tres jeune et l'animation des rues s'en ressent. A cote de ca il y a une multitude de vendeur de nourriture le long des rues, l'occadion de manger a la mode locale. De cette base nous visitons les alentours , le temple boudhiste de Borrobudur et celui hindouiste de Prambanan. Surprenant edifices surtout au milieu d'un pays a majorite musulmane. Finis pour les zones urbaines , de retour a la nature sauvage avec le mont Bromo. Il s'agit d'un volcan toujours actif , des fumees s'echappent du cratere en permanence. Nous montons sur le cratere pour admirer le lever du soleil. Experience interessante, surtout au debut, il n'est pas facile de trouver le volcan dans le noir complet sans indication.Le paysage vaut vraiment le detour , une sorte de plaine desole entour le cratere. Cela fait penser a un paysage post apocalyptique. Voila c'est finis pour Java , nous allons maintenant sur l'ile suivante , Bali.
Our journey start with Java , the major island economically speaking. Our first mission , meeting Julie one pf Adele's friend. Mission easily fulfilled in Jakarta. We visit a bit this town which is the capital. It's a big mix of new, old and ruins with some strange association sometimes. The old neighborhood has some old lovely buildings , souvenir from the Dutch. Next town, Jojakarta , a university town. People are younger resulting on more animated streets. In addition there are many many food sellers along the streets , a good way to test local food. From this base , we visit the surroundings , Borobudur a Buddhist temple et Prambanan an Hinduist one. Surprising buildings especially in the middle of a mainly muslim country. Finish with urban area, going back to wild nature with mount Bromo. It's a still active volcano , fumes can be seen coming from the crater. We climb up the crater to see the sunrise. Interesting experience, especially the beginning, it's not easy to find a volcano in the dark without direction. The scenery is amazing , a desolated plain around the crater. One could think of a post apocalyptic landscape. It's the end for Java , we are going now to next island , Bali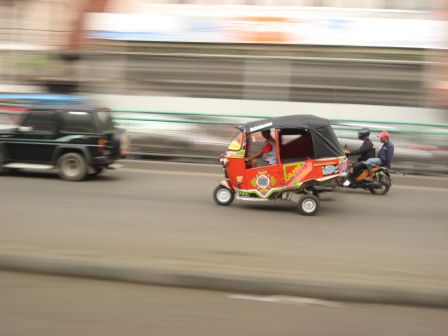 Tuk-tuk a Jakarta / Tuk- tuk in Jakarta
---
Bali, contrairement aux autres iles est majoritairement hindouiste. Nous nous basons a Ubud , une charmante ville dans les terres. Ca sera notre base de depart pour explorer l'ile. Nous ne manquons pas Pura Besakih , ou temple mere , le plus grand temple de Bali. Les edifices sont tres rafines , tres different de ce que j'ai pu voir jusqu'ici. Rafine est d'ailleur un mot qui decrit bien Bali en general.A dos de scooter nous parcourons la campagne et decouvrons d'autres temples , lac et village tradditionnel. Et a notre desagrable suprise nous experiencons le micro climat des hauteurs. Nous nous sommes retrouve sous des pluies violentes , impressionnant de couduire dans de telles conditions. A Ubud , nous assistons a Barong et Keris , un spectacle de danse traditionnel. Un bon moyen de plonger dans la culture local et surtout de mieux comprendre les habitants. C'est le moment pour Julie de nous laisser. Nous continunons notre route par un stop a Kuta, centre touristique peuple majoritairement de surfeurs australiens. L'occasion pour moi de tester les vagues et de retrouver les sensations de glisse en bodyboard.Il temps maintenant de partir au calme sur Lombok.
Bali , not like the other island , is mainly Hinduist . We base ourself in Ubud , a lovely town in the country side. It's our base camp to explore the island. We do not miss Pura Besakih, a k a mother temple , the biggest in Bali. Buildings are refined , really different from what I saw till now. Refined is by the way a good way to describe Bali. Riding scooter we cruise around the country side and discover other temple , lakes and traditional villages. And a bad surprise , we try heights micro climate. We suddenly find ourselves under pissing rain , impressive to ride in such condition.Still in Ubud , we watch Barong and Keris a traditional dance show. A good way to discover local culture and to understand a bit more the people. It's time for Julie to head back home. We go on and stop in Kuta , a touristy place filled with australian surfers. I take the opportunity to test the waves and to get back on bodyboard. It's time now to move to calmer places on Lombok.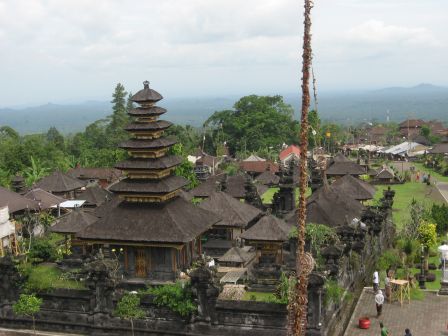 Vue de Pura Besakih / A view from Pura Besakih
---
Nous attaquons en hors d'ouvre a Rijani volcan de l'ile et deuxieme sommet de l'Indonesie.Huit heures de trek et 2000 metres de denivele nous amene au bord du cratere (2641 metres pour les interesse, le sommet est a 3726 metres mais l'acces est ferme a l'heure actuelle ). La nous sommes ebahis par la vue. Un enorme cratere couvert majoritairement par un lac. Mais surtout le nouveau volcan au milieu, en eruption depuis environ un mois. Le meilleur reste a venir , a la tombe de la nuit nous apercevons distinctement la coule rouge de lave. Nous passons la nuit au bord du cratere berce par les bruits de tonner du volcan. Une des choses les plus folles que j'ai pu voir jusqu'ici. Apres ces emotions nous nous dirigeons vers les iles gilis pour un peu de repos. Nous sommes accompagnes par deux amis americaines rencontrees sur les pentes du volcan. Premiere arret a Gili Trawagan , pas vraiment genial , trop developpe et trop de monde. Notre devolu se porte ensuite sur Gili Air , un veritable coin de paradis , surtout la cote ouest. La vue de notre bungalow nous offre un couche de soleil le soir et un eau turquoise a nos pied le matin. Les journees s'ecoulent tranquilement entre nage , masque tuba et plongee. Une bonne fin de periple avant de replonger dans le monde reel. Tokyo nous attend pour notre dernier stop en Asie.
For a starter we choose Rijani , a volcano and second highest pick in Indonesia. Eight hours trekking and two thousand meters higher and we are on the rim (2641 meters for those interested, the summit is at 3726 meters but close at this time ). There we are stunned by the view . A huge crater , filled mainly by a lake. But especially the new volcano in the middle , erupting since a month. The best is to come, at night fall we can really see the red lava coming out. We spend the night on the rim with thunder sound as background. One of the craziest thing I ever saw. After all those emotions , we go on to the Gilis island to take some rest. Two American friends join us , we met them on the slope of the volcano. First stop on Gili Trawagan, no really great to developed and to many people.Then we hop to Gili air , really a small piece of heaven , espacially on the west coast. The view from our bungalow switch from turquoise sea to lovely sunset in the evening. Days go by slowly between swimming , snorkeling and diving. A good way to end our journey before going back to reality. Tokyo is waiting for us for our last stop in Asia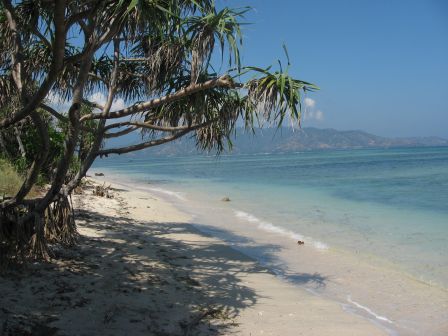 Eau turquoise de Gili Air / Turquoise sea around Gili air
---
J'ai beaucoup aime l'Indonesie , les gens y sont en general tres gentil et un nombre surprenant parle un peu le francais. Les paysages sont tres varies et souvent sublime. L'archipelle est immense , il va falloir que je revienne explorer les autres iles. J'ai aussi adore la nourriture , le nasi campur plat nationnal mais il n'y en a pas deux identique.Il s'agit de riz plus assortiment de legume,oeuf, crackers, tempe et/ou poisson et/ou poulet un delice!
I really loved Indonesia , people are really friendly and a surprisingly some speak a bit of french. Landscape are amazing and diversified. The archipelago is huge , I will have to come back to explore the other island. I also loved the food, nasi campur national dish but none are alike . It's rice with veggies , egg , crackers , tempe and/or chicken and/or fish , a must.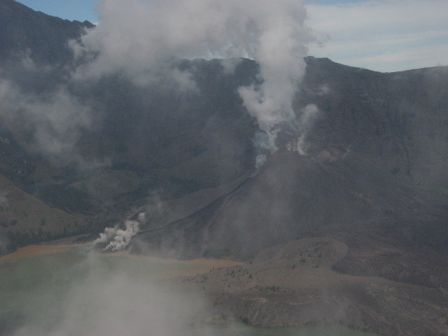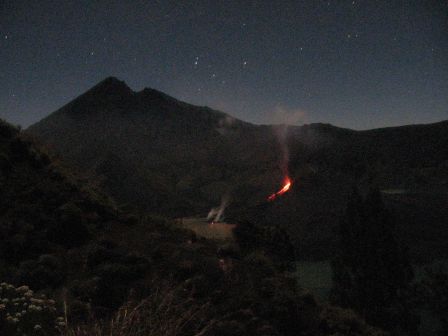 jour et nuit du cratere du volcan Rijani (Merci Mandy pour le cours de photo et le pied )
/ day and night of Rijani volcano crater (Thanks Mandy for the photography lesson and the tripod )