MUMC Alpine camp, New Zealand
By Gaetan on Monday , 4 May 2015, 16:24 - climbing - Permalink
Earlier this year I ran the MUMC Alpine camp, which saw eleven of us going out in the hills. We took over Tasman saddle hut, and proceed to climb lots of the classic objective around.
We had such good weather that everyone did lots of climbing. The cherry on top was a mass ascent of Malte Brun, a big 3198m high rocky peak and the big prize in the area. Although I did not reach the actual summit, we did the most interesting part of the climb, aka the "cheval" section. It was certainly a great experience on a committing peak, we had to do nine abseil before getting back to the snow.
Instead of trying to write a probably boring account of all the climb I did, I'll show you photos of what I climbed.
We warmed up with Aylmer to Hochester dome traverse in somewhat windy conditions :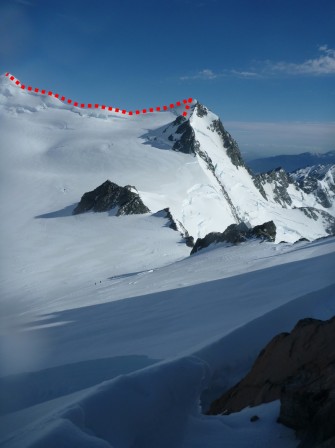 Mt Aylmer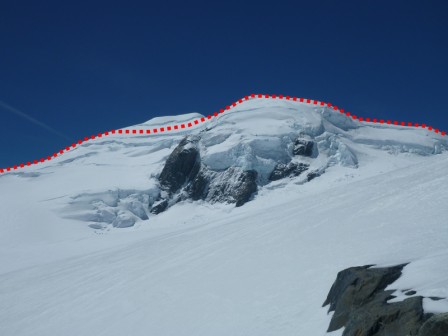 Hochester dome
We carried on getting some crampon mileage by climbing the snow slope next to Mt Anan :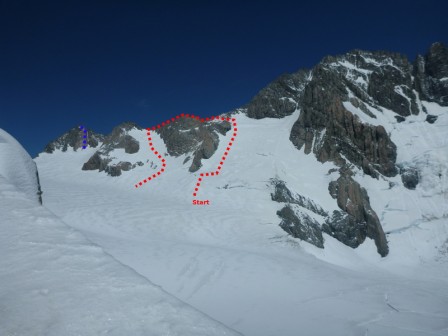 Mt Anan and peak 9144 on the left
The following day the weather wasn't too good, we choose to do some rock climbing on Peak 9144, route that I already climbed in 2012. This time I did it with my mountaineering boots to get some mileage on rock. You can get a glimpse of the route on the previous photo, follow the blue dots.
By then we were quite warmed up, so we went for a bigger objective, Mt Green. I also climbed Mt Green in 2012 with a bivy at the col, soft snow condition meant we couldn't move fast enough to do it in a day. This year, with Rodney, we climbed it in much better style, we were at the base of the climb by sunrise around 6AM, back down around 9AM. We were back at the hut by 12h30, text book time ! We just kept on moving which was the key.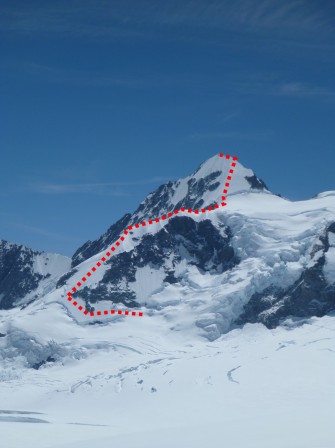 Mt Green
Back to rock climbing for a shorter day, I went up the obvious red corner on Mt Mabel with Tom and Rodney. I did it in boots again, it was a bit harder than the last one, but we had Tom and his climbing shoes as rope gun. I don't really have a photo of that one, but you can sort of see it on the snow slope photo, it's the rightward raising sky line on the right of the blue dotted route.
To finish an already great trip, I teamed up with Tom and Luke to go up Malte Brun :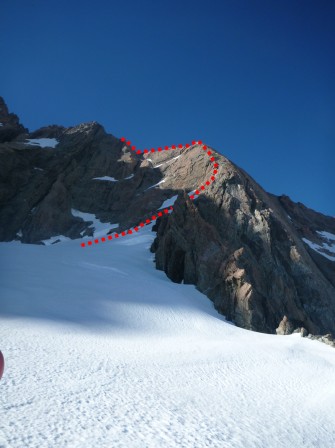 Rock buttress leading to Malte Brun west ridge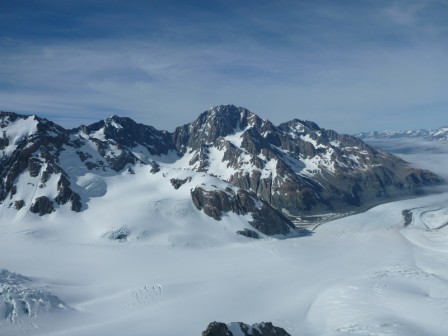 The Mighty Malte Brun in the center, we went about half along the ridge on the right side
More photos from the trip, include some nice new year pina colada : http://www.mrgaetan.eu/photo/index.php?/category/110