Venant du Cambodge nous avons atteri a la capitale , Kuala Lumpur. Ca fais bizare de se retrouver dans un pays developpe, mais c'est aussi agreable. Kuala Lumpur a l'image de la Malaisie est tres cosmopolite asisatiquement parlant. A chaque coin de rue il n'est par rare de se retrouver en face de differentes ethnies , indiens avec la tika hindou , chinois , malay musulman portant le voile et autre . Nous fesons un petit tour de la ville pour jeter un oeil aux differents lieux de culte mosques, eglises et temples hindou. Bien sur n' oublions pas un tour pres des petronas tower , plus hautes tours au monde pendant un certain temps.
Coming from Cambodia we landed in the capital , Kuala Lumpur.It feels strange to be back in a fairly developed country, but its nice. Kuala Lumpur or KL is like Malaysia really cosmopolitan asian speaking. Round a street corner it's not unusual to meet different ethnic group , indian with the hindu tika , chinese , malay wearing muslin veil. We walk around the city to look at different cult places , mosque , church and hindu temple.Not to forget a look at the petronas tower , once the highest building int the world.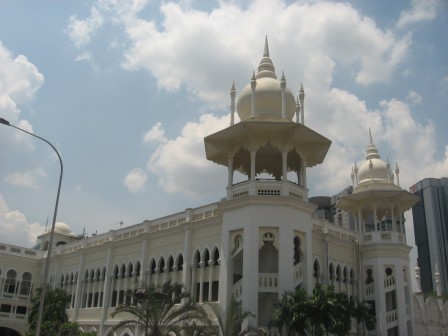 La vieille gare de Kuala Lumpur /Old train station in Kuala Lumpur
---
Apres ca destination vacances , nous allons sur perhentinian kecil , la plus petite des iles perhentinian. Nous logeons dans un bungalow surplombant la plage. La vie se deroule pour moi entre lecons therorique et plongee.Je finis mon sejour comme plongeur certifie. L'eau y est turquoise , la visibilite superbe , un lieu parfait pour admirer differents recifs de coraux et leurs poissons. C'est vraiment un lieu paradisique !
After that , holiday on the way , we go to perhentian kecil , the smallest of the perhentian island. We stay in a small bungalow looking over the beach. The life for me is divided by theoretical courses and diving, I finished my stay as an open water diver. The water there is turquoise , visibility is wonderful, a perfect place to admire different coral reef and their fishes. It's really a small paradise !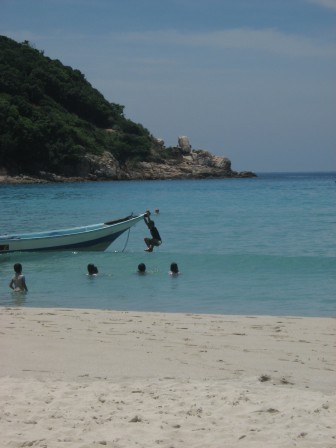 Les enfants sur la plage long beach , ile Perhencian /Kids on long beach , Perhencian island
---
Apres la plage , nous nous enfoncons dans les terres pour rejoindre la jungle du Taman Negara. Une des jungles les plus anciennes au monde , elle aurait 130 millions d'annees. Humidite et chaleur sont au rendez-vous ou comment perdre un litre de sueur en trente minutes.Le premier jour nous tatons le terrain en testant le " canopy walkaway " , une serie de ponts suspendus entre les arbres , situes a 50 metres du sol. C'est sympa mais pas aussi fun que la tyrolienne. Prennons notre courage a deux mains , nous partons des le lendemain pour deux jours de treks , avec une nuit a passer dans un observatoir pour animaux. L'aller est plutot simple , dix kilometres dans la jungle avec une riviere a traverser. C'est un peu dur sur la fin , mais au bout de six heures trente nous trouvons enfin notre logement. Un batiment surplombant une clairiere, basique et sans eau. Le lendemain meme distance mais autre chemin , vraiment accidente ce coup-ci. Nous passons plus de temps a descendre passer un ruisseau puis escalader l'autre flan qu'a marcher normalement. Enfin toute la difficulute est compensee par l'occasion d'apercevoir des animaux dans leur habitat naturel. Dans l'observatoire nous avons apercu une biche et quelques oiseaux , sans oublier les guepes et autres insectes. Sur le chemin nous avons croise des cochons sauvages, paon , ecureil , fourmis geantes et autres insectes. J'allais oublier nos nouvelles amies les sangsues, elles sont partout et trouvent toujours un moyen de s'inflitrer pour vous sucer le sang.
After the beach , we go inside the country to reach the Taman Negara jungle. One of the oldest jungle in the world, it's about 130 millions years old. Humidity and heat are there or how to loose a liter of sweat in thirty minutes. The first day, we give it a try by walking on the canopy walkaway , a series of bridges , hanging 50 meters above the ground. It's great but not as fun as ziplining.Getting brave, we head off the next day for two days trek, with one night to be spent in a hide. The way on is fairly easy , ten kilometers in the jungle and a river to cross. It's getting a bit challenging at the end , but after six and a half hour we eventually find our place to stay. A building overlooking a clearing , basic without water. The following day , same length but different path , really rugged this time. We spend most of our time going down crossing a stream and climbing the other side , not really easy walking. Anyway all the difficulty is compensated by seeing animals in their natural habitat. From the hide , we saw a deer and some birds , not to mention wasps and other insects. On the way back we came across wild pigs , peacocks, squirrels , giant ants and many insects. I was about to forget my new leeches friends , they are every were and always find a way to stick on you and suck your blood.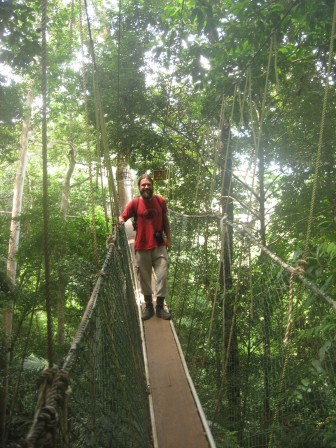 Un pont du canopy walkaway/A bridge from Canopy walkaway
---
Apres toute cette nature ,retour a la civilisation avec Singapour. Grande ville developpee mais aeree et agreable a visiter. Je me surprends a apprecier les grandes villes. En cherchant un peu nous trouvons les bon plans nouritture , les "food court" , self service de different plat asiatique ou comment faire un festin pour pas cher. Little india rapelle un peu l'inde , en plus calme, on y trouve surtout des vendeurs de textil et de bijoux. Le colonial district est la partie culturelle avec ses musees et son theatre. Je ne suis habituellement pas fan de zoo, mais je dois dire que j'ai ete agrable surpris par celui de Singapour. Il est vraiment enorme et beaucoup d'animaux sont en quasi-liberte , notament les gibbons et les orang-outangs. En plus de cela , il y a une miriade d'information sur les animaux et sur la protection des forets.Tres bon pour la culture.Il ne faut pas trop abuser des endroits developpes , direction les Philippines pour la suite du voyage.Ce n'etait pas prevu mais plusieurs personnes nous les ont conseillees du coup nous allons y jeter un oeil.
After all those wild places , come back to civilization in Singapore. Big developed town but space out and quite nice to visit. I surprise myself with actually enjoying big cities. Looking around a bit , we find good tips for food , food courts self service places where you can find different asian dishes or how to fill up for cheap. Little India is a bit like india , calmer though , there are mainly textil and jewelery sellers. Colonial district is the cultural area witth museum and its theater. I am not really keen on zoo , but I must say I was quite surprise by the Singpapore one. It is really huge and lots of animals are actually in free range area, like gibbons and orang utans.Moreover , there are a lot of information about animals and forest protection. Really good for knowledge. It's not good to stay too long in developped places , going to the Philippinrs next. It was not plan but many people told us it is a nice place we are going to have a look.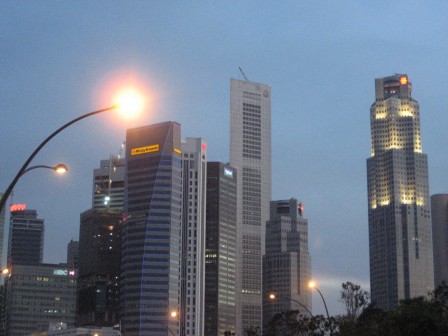 Quartier des affaires de Singapour/Buisiness area in Singapore
---
La Malaisie c'est vraiment sympa avec des gens acceuillant. C'est un pays developpe du coup c'est facile a voyager , mais il y a encore des endroits ou il est possible d'apprecier la nature a son etat sauvage.Vraiment une destination que je conseille pour ceux qui veulent voyager sans se prendre la tete.
Malayisa is really lovely with friendly people. It's a developped country so it's really easy to travel ,.but there are still places of wild nature. Really a place I would advise for those who wants to travel easily.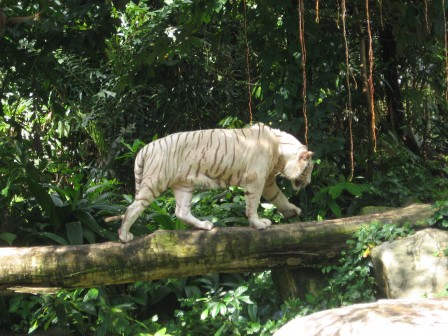 Une de nos rencontres dans la jungle ... arf c'etait au zoo /One of our encounter in the jungle ... erf it was in the zoo