The Egg Memorial Route - The Story of a First Ascent
By Gaetan on Wednesday , 6 February 2013, 11:58 - climbing - Permalink
IN LATE JANUARY LAST YEAR, I climbed my first mountains in New Zealand. Luke Gogolkiewicz, Nathan Jancauskas and I were on Fox Glacier to learn about snow craft in the midst of New Zealand's Southern Alps. Camped comfortably at Centennial Hut, we stayed on Fox Glacier for seven days, being taught by Stu Hollaway how to climb on snow and ice, and travel safely on glaciated terrain. Stuart is a big advocate of learning by doing, so in the first four days, we found ourselves climbing some easy routes.
Not far from Centennial Hut, there is an attractive rock buttress that leads to a then unnamed peak on the right of Aigrette. Stu had been eyeing this off while we were learning the ropes—knowing he had a group with fairly strong climbing skills, Stuart decided to give it a go.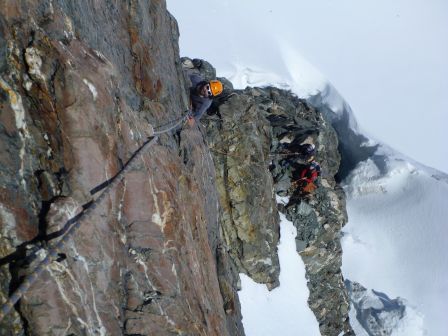 Gaetan Leading the second pitch
IT WAS A ROCK route, so an alpine start wasn't required—on the contrary, we wanted the rock to warm a bit. We left at around 10am, following an easy approach to reach a snow scoop at the base of our objective. In that cosy place we left our snow gear and put on our climbing shoes. It was going to be all rockclimbing.
The idea was that Stuart would go up first, seconded by Nathan. I was to follow, leading on the second rope, with Luke as a second. Stuart started on the obvious crack, but I decided to gain the face starting a bit further to the left, which led me to some easy slab-ish climbing. This first pitch ended on a big roomy ledge. I quickly realised that this was truly alpine climbing when I saw the ledge covered in loose rock. A little bit of cleaning was needed in order to avoid sending rocks on our seconders.
From there we could see a few options for the second pitch. Option one: starting on the right arête to then move onto the face and traverse to an obvious belay stance. Option two: jumping on a nice crack in the middle of the face, to then reach the aforementioned traverse and belay (this looked quite hard). Further left, it looked like a chimney would provide easy access to the belay stance. We chose option one, the arête and traverse—it looked like the most interesting and fun solution.
A short slab section allowed us to reach the bottom of the arête. From there, we climbed up a nice crack offering good protection. Following the crack on the left, a few delicate moves on small footholds took us onto the face. Still traversing left, the pitch finished with a move around a bulge to reach the belay. Talking about it, Stuart and I thought it went at about grade 17, with leaving the crack to gain the face being the crux. Funny fact: that was my hardest lead on gear at the time. It looks like the mountains were a good catalyst for my climbing.
This second belay was a bit small to fit us four, but we squashed. The third pitch started with a lovely wide crack involving some nice bridging. The crux was avoiding sending a big block flying down onto our belayers. Alpine climbing seems to require a bit more precaution than regular cragging—we were always testing holds before pulling on them. That made the climbing interesting (some would say scary).
The next pitch had us back on the arête. It was now climbing with full exposure: nothing on the left, nothing on the right, but thin air. It was exhilarating. The climbing felt like a breeze—easy and enjoyable at a low grade. Unfortunately the pitch ended on a small spike with no way forward. We had to rappel on the left of it to reach a cave, which provided a bit of shade for the belayers (who would have thought that mountaineering involved caving?). A short scramble through the cave took us to the base of the next pitch, back on rock.
A small traverse allowed us to once again reach an arête. We now had to cross 'the bridge': a big block perched between two sections of rock. Still on the arête, we sped through another easy section and wound up at a sheltered belay at the bottom of a steepening section. Face climbing led us across to a perfect crack, a section of wonderful hand jamming that I thought wasn't long enough. As we reached higher ground, the rock started to deteriorate, and we had to take extra care not to dislodge loose bits.
A pitch of about grade 12 led us to another big ledge—the perfect rest spot before making a bid for the top. All of us practically ran up the last 15 metres to reach the peak. The view was impressive, and when we looked down, there was simply a massive drop. It was well worth the climb.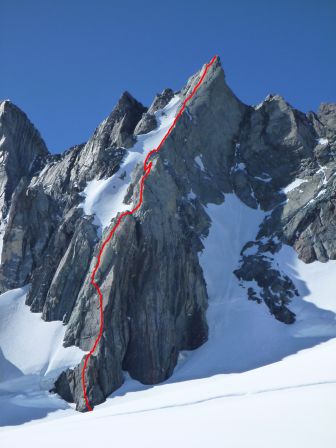 Overview of the route
WE DIDN'T LINGER LONG, because at the top we were only halfway—we still needed to get down. Stuart led the rappel—fortunately we could descend the snow slope to the left of the rock buttress. That made getting down quicker, although it wasn't pleasant walking down the snow in rockclimbing shoes.
Because we opened the route, there was obviously no established rappel. We had to build our own and leave some gear behind. Sadly I was forced to abandon one of my favourite slings; the first one I bought. Oh well, it had a good life, and I'm sure it's enjoying the view now.
A rappel is never really complete without a bit of stuck rope, and we started well with our ropes getting jammed on the first rappel. Stuart had to climb up a bit to retrieve them. The next four raps went without a hitch, but to throw in a last bit of excitement, our ropes decided to get stuck again on the last rappel. Luckily we managed to pull them free with some messing around and rope flicking.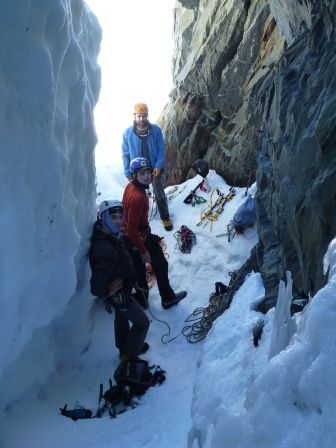 The team gearing up
FEELING PRETTY HAPPY ABOUT our new route, we started the walk back to the hut. It was late afternoon and by that time the snow had become quite soft. When travelling on a glacier this isn't good news—soft snow makes progress slow, but more importantly it means crevasses open.
Luke and I were on the first rope, leading the way carefully, avoiding crevasses. All was well until we heard Stuart yelling at us. Looking back, something looked out of place. Someone was missing. Nathan, who was leading the second rope, had fallen into a crevasse. We hurried back while Stuart started the rescue process. It became the perfect situation to practice a full crevasse rescue—we managed to get Nathan out quickly (once he managed to un-wedge himself). All this while, the two other parties at the hut were watching us while enjoying cups of wine. That was our last excitement for that full-on day, and we made it back to the hut without any further trouble, looking forward to some well-earned rest.
By Gaetan Riou
Photograph by Stuart Holloway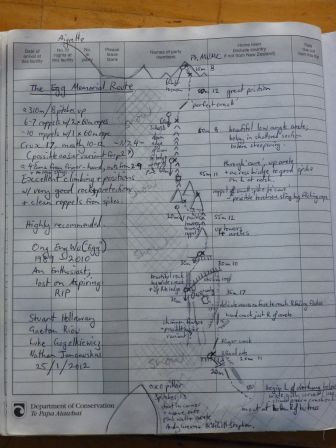 The route topo, can be found in Centennial hut log book
The Egg Memorial Route (NZ4-, 310m)

The route is named in memory of Eng Wu 'Egg' Ong, who sadly passed away in 2010 while climbing Mt Aspiring. The route goes about grade 17 (NZ 4-), the second pitch is being the crux. There is potential for an easier variant that should make the route more consistent at about grade 12.
Descent: six to seven rappels with two 60 metre ropes; 10 rappel with one 60 metre rope.
Gear: four to five cams from finger to hand size, nuts from size two to nine, and many slings.
Stuart Holloway, Gaetan Riou, Luke Gogolkiewicz, Nathan Jancauskas, 25 January 2012
Update : new topo in the log book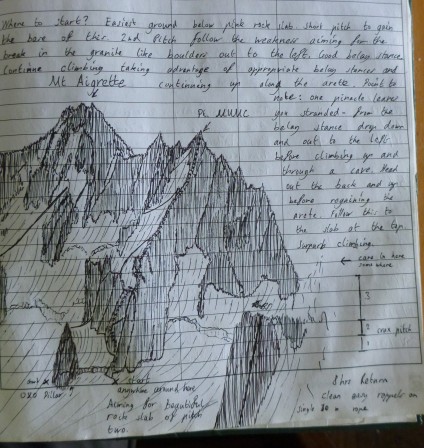 New topo by Richard Bassett-Smith
---
This article was published in The Mountaineer, August 2012. The mountaineer is the Melbourne Uni Mountaineering Club magazine. For more information about the club, check the website : www.mumc.org.au