After some time in the big mountain, it was time to go back to rock climbing. Since the Tasmanian selected guide book came out in 2013, I had been keen to go back, lucky my friend Thara had some free time and was equally keen. We headed down for three week to sample some Tasmanian rock.
Dirt bagging in Hillwood
After a night on the spirit of Tasmania, we started our tour of Tassie rock by Hillwood. It's a nice sport climbing area with easy access, something of a rarity in Tasmania. The rock is basalt with some cool looking shape. It makes for interesting climbing, as every hold seems to be facing the wrong way ...
Doesn't really do justice to Hilllwood but it's one of the only photo I have, Sacred Stone (24)
The weather wasn't looking too bad for the next few days so we left bolt clipping behind and drove toward Ben Lomond. Thara needed to perfect his jamming technique. We managed to climb Rajah (18) on the first afternoon. It's really one of the best pure hand jamming pitch in Australia, at least the first half of the first pitch. Climbing at the Ben is quite tiring, the boulder field and the physical climbing (and all the hard climbing on bolt beforehand) left us in the need of some rest. Unfortunately, we rested on a good-ish day. The next day wasn't great so we packed up and decided to go and check Frecynet peninsula. On the way, we spent an afternoon climbing at the gorge in Launceston. Somehow we couldn't find any crag on the sunny side, so ended up climbing on the shady side, much easier access. We did some nice crack and short bolted route on dolerite.
Hut life in Ben Lomond, waiting for better weather
We started our exploration of Frecynet by checking the coastal crags. The access is via a four wheel track but it's manageable in a two wheel drive with a bit of care, the Fiesta made it. The weather wasn't so great but we managed to check out some of the classics. Seacliff climbing always add a bit of atmosphere to the adventure. Unfortunately, we got chased by the rain and went down to Hobart for a bit of rest.
White Water Wall
Going to Alchemy wall, the orange-ish wall left of the two ramps
Soon enough we were going back north to Hillwood where the weather was better. As the good weather moved down, we raced back to Frecynet. We had some epic day checking different area, Mt Amos, the Hazards and the Star Factory. Highlight for me was Stud City (19) a nice three pitch climb with the top pitch quite wet, luckily we only needed to climb the wet crack on the easy section. And of course Antimatter (23, we ended up at the Start Factory after getting somewhat lost trying to find Arocknaphobia(22). We both repointed the climb on second go ! It's a really nice pitch on great granite,but knowing that's the crag warm up is a bit demotivating.
View from the top of the second pitch of Stud City (19)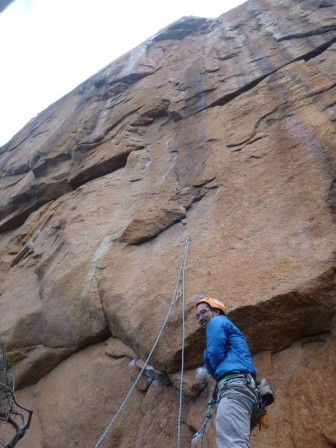 Thara going for the send on Antimatter (23)
We were after some change of scenery, Fortescue bay on the Tasman Peninsula looked like the obvious choice. Our objective was the Moai, one of the free standing pillar. The famous totem pole is still a bit above my skill set, but something to check out if you can climb 25. Fortescue Bay is an awesome place to hang out, really nice setting. We successfully climbed the Moai via Sacred Site (18) and we also played on Ancient Astronaught(24). I got a bit shut down, I couldn't figure out how to do the crux move, I am not used to slabby arete climb.
The Moai
On top of the Moai
After the short adventure climbing excursion, we headed back to Hobart where we had a place to crash on the week-end. We were pretty keen to sample some of the climbing on the Organ Pipes. There are some excellent crack and face climbing to be done. The location is also quite nice, with a view of Hobart and surround.Sadly, that was one of our last stop before going back to Victoria.
Destroyed crack clove after struggling through Tartarus (21)
On our last day, we decided to check out Norht Esk next to Launceston. Beside the nice instruction from the guide book, we couldn't find any of the crag ... Launceston climbing is definitely not one our forte. As Vertical Life says :
Life is too short to climb shit route
but we still climbed some crappy crack that we found. At least it wasn't a rest day !
Questionable quality route
More photos there : http://www.mrgaetan.eu/photo/index.php?/category/111
During those three weeks, we did climb a fair bit and sample some cool crags. But there is still lots to explore, more adventurous places like Frenchmans cap or Mount Brown. I am looking forward to the next trip.
They say Tassie is the place to be in summer ...