Mexique et la variete de paysages , activites, peuples ... / Mexico and variety of landscape , activities , people ...
By Gaetan on Wednesday ,29 July 2009, 17:32 - Travel - Permalink
Hola chavos ! que paso way ? Hoy el articulo esta en espanol. Je plaisante , mon espagnol s'ameliore mais je ne suis pas encore assez a l'aise pour ecrire un article dans cette langue. Je suis arrive sans encombre sur le continent americain , et pas de soucis pour le moment au niveau de la grippe porcine.


Hola chavos ! que paso way ? Hoy el articulo esta en espanol. I am kidding , my spanish is getting better but I am not fluent enough to write an article in this language. I arrived without a problem on the american continent , and no worries about the swine flu so far.


---
La visite du Mexique commence bien sur par la capitale , Mexico city. Nous y retrouvons avec plaisir notre ami Sebastien , recemment instale dans la capitale. Il nous introduit un peu a la vie Mexicaine en nous presentant certains de ses amis. Il nous fais aussi decouvrir le musee de Frida Kalo , peintre reconnue. Pour ma part j'ai aussi fais un tour au musee d'anthropologie , un must si vous voulez tout savoir sur les anciennes civilisations pre hispanique du Mexique. Nous ne nous attardons pas a la capitale , le pays est si vaste. Mais avant de partir nous fesons un detour obligatoire par Teotihuacan, ancienne ville du peuple Teotihuacan. Elle fut reprise plus tard par les Aztecs avant qu'ils ne creent leur capitale a l'emplacement actuel de Mexico city. La ville contient quand meme les 3eme plus hautes pyramides au monde apres l'egypte et la pyramide de Cholula. Cette derniere est meconnue et d'ailleur elle n' est pas tres visible. Elle est en effet recouverte de terre et ressemble plus a une colline qu'a une pyramide. Si bien que leur arrivee les espagnols ont construit une eglise au sommet sans decouvrir la pyramide. Donc apres la capitale , nous partons a Puebla , ancienne ville colonial. Le centre historique est tres joli , les batiments coloniaux sont tres colores ce qui donne beaucoup de charme a la ville. Nous assitons a un match de Lucha Libre (equivalent au Catch) , sport national au Mexique. C'est surtout interessant pour l'ambiance et le spectacle, car bien sur ce n'est pas vraiment du sport , c' est toujours les gentils qui gagnent. Nous visitons aussi Cholula dont je parlais plus haut.
The visit of Mexico starts of course by the capital , Mexico city. We meet up with our friend Sebastien , who moved recently in this city. He shows us a little the mexican life by introducing us to some of his friends. He also shows us the Frida Kalo museum, a well known painter. I also went to the anthropology museum , the place to go if you want to learn about pre hispanic civilisation of Mexico. We don't spend a lot time in the capital , the country is huge. But before leaving , we go to the must see Teotihucan, old city of Teotihucan people. It was later used by the aztecs before the creation of their own capital , where Mexico city stands nowadays. The city hosts the third highest pyramid in the word after the egyptian ones and the one in Cholula. The later one is not realy famous and it's not really visible. It looks like a hill because it's covered by earth. That's why when the spanish came , they build a church without knowing it was a pyramid. So after the capital , we go to Puebla , an old colonial town. The historic centre is beautiful, the colonial buildings are colourful which give the city a lot of charm. We watch a match of Lucha Libre ( similar as Catch) , national sport in Mexico. It's interesting for the show and the atmosphere.Of course it's not really a sport , and it's always the good ones who win. We visit as well Cholula , which is was talking about earlier.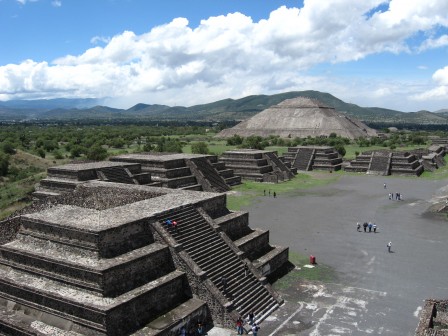 Les pyramides de Theotiucan/ Theotiucan pyramids
---
Seconde etape archeologique a Palenque. C' est une ancienne ville Maya , la plus importante du Mexique. Il ne reste quasiment plus que les temples mais ca vaut vraiment le detour, ils sont impresionnant. Nous nous rendons ensuite a San Cristobas de las Casas, petite ville coloniale perdue au milieu des montagnes. Dans les alentours se trouvent des villages indigenes . Nous visitons San Juan de Chomula, tres connu pour son eglise et surtout les pratiquants. Ici les indigenes ont mixe le catholicisme et leurs croyances ancestrales donnant un mix bizare. L' eglise est remplie de bougies et le sol est couvert d'epine de pin. Les indigenes venerent plus les saints que Jesus ou Dieu , ils assimilent les saints a leurs anciens dieux. Leurs prieres ressemblent a des chants chamaniques. Ils vont meme jusqu'a sacrifier des poulets en offrande. C' est surprenant comme spectacle.
Second archaeological stop in Palenque. It's an old Maya city, the biggest in Mexico. Beside the temple , there is almost nothing left but it's really worth it , they are impressive. Then we go to San Cristobal de Las Casas, small colonial town lost in the middle of the mountains. Around they are many indigenous village. We visit San Juan de Chomula , well known for its church and mainly for its churchgoer. There indigenous people mixed catholicism and their old beliefs. The church is full of candles and the ground is cover with pine needles. Indigenous people worship more saints than Jesus or God, they assimilate saints to their old gods. Their prayer look like shamanistic chanting. They even sacrifice chicken as offer to saints. It's a really surprising show.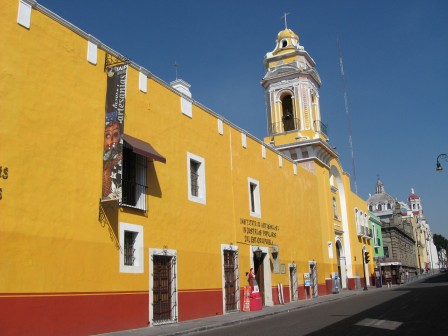 Ruelle de San Cristobal de las Casas/ Street in San Cristobal de las Casas
---
Apres les montagnes , direction la plage de Puerto Escondido, un endroit tres connu des surfeurs. J'en profite d'ailleur pour rechausser des palmes et tester les vagues du pacifique. La detente nous invite a tester les boissons locales , la tequila bien sur et le mezcal. Ne par trop en abuser ca fais mal au cheveux. La pause plage terminee, nous attrapons un bus pour Oaxaca. Une dizaine de cols , beaucoup beaucoup de virages et une panne nous amene finalement dans cette ville reputee pour son artisanat. Dans les alentours se trouvent differents sites archeologiques dont Monte Alban. Il s'agit d'une des villes les plus importants des Zapotecs. Elle est placee en haut d'une coline surplombant toute la vallee. Encore une demonstration de l'ingeniosite des peuples mesoamericains.
After the mountains , we are going to check Puerto Escondido beaches , a well knows place among surfers. I take the oportunity to put back my fins and try pacific waves. The chill out atmospher invites us to try the local drinks, tequila of course and mezcal. Not to drink in excess , it leeds to headache. The beach break finished , we jump in a bus to reach Oaxaca. A dozen passes , lots of bends and a breakdown and we eventually reach this town known for its craft industry. Around the town are other archeological sites of which Monte Alban. It's one of the most important Zapotec town. It is situated on top of a hill overlooking the surrounding valey. Again a show of ingenuity from mesoamerican people.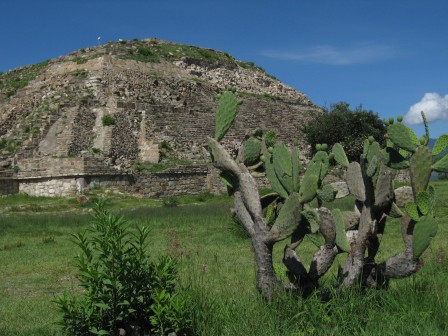 Apercu de Monte Alban et cactus / View of Monte Alban and cactus
---
Je me dirige ensuite vers le nord pendant que Pierre et Adele s'envolent pour Cuba. Je commence par Monterrey , ville plus americaine que mexicaine. Elle n'a rien de vraiment charmant mais aux alentours se trouvent des canyons et la reserve naturelle de la Huasteca. J'en profite pour decouvrir le canyoning en descendant le canyon de Matacanes. Le plus impressionnant etant le saut de 12 metres! Je continue l'aventure sportive par la premiere via ferrata du Mexique ( c'est une sorte d' echelle sur un pic rocheux , escalade pour tout le monde en gros ). Ce n'est pas vraiment une bonne idee quand on a un peu le vertige. Enfin je suis content de l'avoir fait. L'etape suivante est la presque ville fantome de Real del Catorse. Un petit village perche dans les montagnes accessible seulement par un tunnel de deux kilometres. J'y decouvre les paysages alentours donnant sur de magnifiques vues. Le point interressant etant la montagne sacree des indiens huichol. Ils y viennent une fois l'an pour venerer le dieu du soleil.Il est temps de recuperer mes compagnons a Mexico city pour nous envoler pour le perou , premiere visite d'amerique du sud.
Then I take the north direction while Pierre and Adele flight for Cuba. I start with Monterrey , more an american than a mexican city. It is not really charming but around they are canyons and the natural park La Huasteca. I take the opportunity to discover canyoning by going down Matacanes canyon. The most impressive a 12 meters jump ! I go on the sport adventure by trying the first via ferrata in Mexico (a sort of ladder on a rocky pic , kind of climbing for everyone). It's not really a good idea when you are a bit afraid of height. Never the less I am happy I did it. The next step is the quasi ghost town of Real del Catorse. A small village situated in the middle of the mountains , only reachable by a two kilometers long tunnel.I discover their the surrounding landscape full of amazing sceneries. The interesting site is the Huicol indian sacred moutain. They came here once a year to worship the sun god. It's time for me now to meet up with my companion in Mexico City to fly to Peru , first stop in south america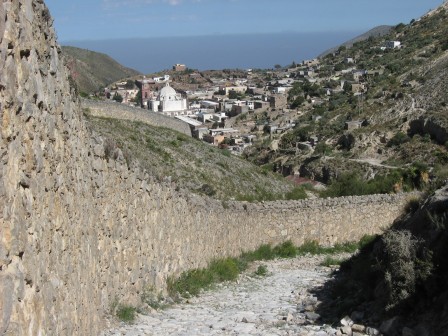 Real del Catorse vu de l'ancienne route d'acces / Real del Catorse from the old road
---
Le Mexique est un pays tres facile a voyager , en plus les gens sont tres acceuillant. Ils font tous l'effort d'essayer de comprendre notre mauvais espagnol. Le pays est immense et possede des paysages vraiment varies. Il me reste encore plein de chose a y explorer, encore un pays sur la liste des pays a revisiter.
Mexico is a rellay easy country to travel , and people are really welcoming. They all try to understand our broken spanish. The country is huge and you can find a large array of lanscape. I still have lots of things to discover their, one more country on my list of country to go back to.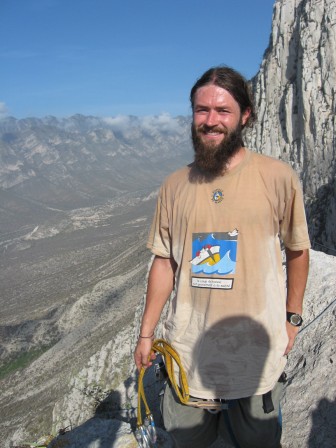 Au sommet du pic apres 3 heures d'assencion sous le soleil / On top of the pic after 3 hours of climbing under darting sun