Peru et les lamas / Peru and lamas
By Gaetan on Wednesday ,19 August 2009, 23:37 - Travel - Permalink
Le perou deuxieme étape dans un pays parlant espagnol et premiere etape d´amerique du sud. Le changement d´hemisphere nous amene en hiver , il faut resortir pantalon et polaire.Pour garder les bonnes habitudes nous commencons par la capitale. Le tour sera vite fais , Lima n´etant pas tres reputé pour sa securite nous y passons seulement deux jours. Nous jetons quand meme un oeil au centre ville et surtout au Monastere de San Fransisco et ses catacombes. Nous commencons notre descente vers le sud par Pisco. C´est aussi le nom de la boisson nationnal au Perou , un alcool de raisin distille. Le cocktail pisco sour est un tres bon compagnon de soirée. La ville de Pisco a subit un tremblemene de terre en 2007 et ressemble maintenant a une ville en ruine si on exclu la place des armes. Pas grand interet donc , par contre tout pres il y a les iles Balletas. C´est un superbe endroit pour admirer un extrait de la faune peruvienne , au menu , multitude d´oiseaux, lion de mer , pingouin et autres. Tout pres aussi la reserve naturelle de Paracas, de superbes paysages desertiques, montagnes descendant vers la mer.Suite du trajet vers le sud avec un arret a Nazca. Nous avons eu la chance de pouvoir survoler les fameuses lignes de Nasca. On ne sait toujours pas a quoi elles servaient mais c´est impresionnant a voir.
Peru our second stop in a spanish speaking country, and first stop in sud america. We are now in the sud hemisphere and it´s winter, trousers and polar jacket are needed again. To keep our habits , we start by the capital. It will be a quick stop , Lima is not really well know for being safe, we stayed only two days. We have a look at the city center and especially at San Fransisco monastery and its catacomb. Then we start our way down south by Pisco. It´s also the name of national drink in Peru, a distilled grape alcool. Pisco sour cocktail is really nice in the evening . The town Pisco suffered an earthquake in 2007 and now looks like ruins except plaza de armas. Not really interesting , but not far from there there are Balletas isles. A great place to watch a piece of Peru fauna , on the menu , many many birds, lion sea , pinguins and others. And next to it , Paracas natural reserve , lovely desert landscape , mountains going downs to reach the sea.Next part of the trip down south with a stop in Nazca. We were lucky enought to be able to fly over the well known Nasca lines. Nobody knows what their were used for but its an impresive site.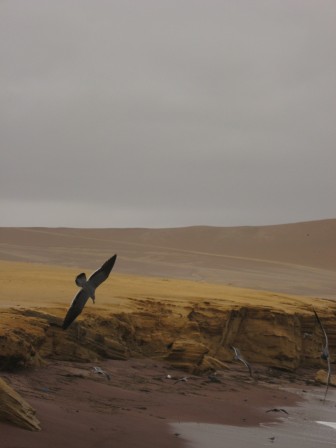 Oiseaux dans la reserve de Paracas / Birds in the Paracas reserve
---
Finis pour la zone cotiere , nous allons finalement dans les montagnes avec un premier arret a Arrequipa. De la nous allons visiter le canyon de Colca , second plus profond canyon au monde. Sur la route nous passons par un point de vue a 4900 metres (avec les toilettes les plus hauts du monde). C´est une vision etrange , entroure de plateau on n´a pas l´impression d´etre si haut . Seulement un leger mal de crane (debut du mal des montagnes ) nous rapelle que nous sommes en altitude, heureusement nous machons des feuilles de coca pour contrer les effets de l´altitude , methode local plutot efficace. Les paysages du canyon sont magnifiques , toute la premiere partie est consituee de culture en terrasse construite avant l´ere inca. Une bonne partie est encore utilise de nos jours.La deuxieme partie correspond a la zone la plus profonde , difficilement accessible si ce n´est a pied. Nous sommes alle a la Croix des condors ou nous avons pu admirer des condors jouer dans les courants ascendants. Nous avons aussi apercu les plus gros colibri au monde, jusqu´a 23 centimetres d´envergure ! Bon ce n´est pas grand chose compare au 3 metrres des condors ... De retour nous visitons quand meme un peu Arrequipa , nottament un super couvent permettant de voir l´evolution architectural au cours du temps et des avancees techniques.Chalenge suivant , le volcan Misti nous nous sommes lances a son ascension , 5825 metres. Mauvaise surprise le jour du depart , le mont est a moitie couvert de neige alors qu´il etait quasiment vierge de neige la veille. Pas de soucis pour les guides , nous montons quand meme.6h de marche avec 10 kilos sur le dos et nous arrivons au camp de base. Nous sommes acceuillis par la neige et le vent. Malheureusement pour nous une tempete a soufle toute la nuit , du coup impossible de se lancer a l´ascension du sommet. C´est quand meme une super experience de passer la nuit a 4600 metres dans une tente sous une tempete de neige.
Finished with the coastal part , we are finaly going into the mountains with our first stop in Arrequipa. From there we visit the Colca canyon , the second deepest in the world.On the road we stop on the view point at 4900 meters (with the highest toilet in the world). It´s a strange view , surounded by plateau it doesn´t seem we are so hight. Only a small headache (first sign of altitude sickness) reminds us we are really hight, luckyly we chew coca leaves to prevent altitude problems, local method that works rather well.Canyon landscape are really amazing , the first part are only terrace for crops , build before the inca time. They are still used nowadays. The second part is the deepest one , not really accessible other than on foot. We went to Condor cross , where we could admire condors playing in the wind. We also saw the biggest colibri , untill 23 centimeters of wingspan ! Of course it´s nothing compare to 3 meters wingspan of a condor ... Back, we also visit a bit Arrequipa , in paricular a big convent where we could see the architectural evolution while new techniques where discovered. Next chalenge ,the Misti volcano we plan to climb it , 5825 meters. Bad surprise on the starting day, the volcano is half covered in snow while they were almost none the day before. No problem for the guides , we can still go. 6 hours with 10 kilos on the back and we eventualy arrive a the base camp. We are welcome by snow and wind. Unfortunaly for us the storm last all night , so it´s not possible to try to reach the summit. It was still an incredible experience to sleep in a tent a 4600 meters under a snow storm.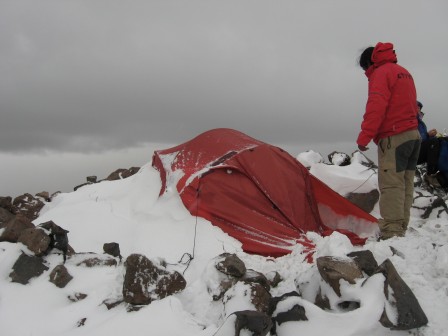 La tente au reveil sur le Misti / Tent in the morning on the Misti
---
Nous partons ensuite pour Cusco et ses alentours. Cuzco est sympatique avec ses petites rues pavees et ses differents quartiers. Mon coup de coeur va a San Blas , lieu de rencontre d´artistes , musiciens , jongleurs etc.. et surtout un bon coin pour ecouter un peu de musique live le soir. Nous visitons aussi la valee sacree avec differentes ruines incas. La plus surprenante etant Pisac , une ville perche en hauteur . En suivant un petit chemin escarpe on arrive finalement a la section des temples cachee par la montagne , invisible du village en contre bas. Suite du periple avec le Machu Picchu , site incontournable lors d´une visite au Perou. Nous prenons un troncons du train zigzaguant dans la vallee pour arriver a Aguas Calientes. De la , reveil a 4h du matin pour un peu plus d´une heure d´ascension nocturne pour rejoindre le site. Et ensuite nous rejoignons au plus vite l´entre du Wayna Picchu , la colline surplombant le site. Nous avons eu la chance d´etre dans les 400 autorises a grimper. Donc encore 45 minutes d´ascension pour découvrir une superbe vue du site. C´est impressionnant ou les Incas (ou autres, personne ne sait vraiment qui a construit la ville) ont ete s´installer. Impossible a decouvrir sans savoir le lieu exacte , c´est completement invisible de la valle. Les incas etaient quand meme avances dans le domaine de la construction , et sans doute au niveau de l´astrologie vue l´orientation parfaite sur les points cardinaux de certains batiments. Par contre ils ne connaissaient pas la roue ni l´ecriture , surpenant pour un peuple avance. Apres la valle sacree , nous continuons notre descente pour rejoindre Puno et les rives du lac Titikaka , plus haut lac navigable au monde. Nous fesons un petit tour sur les iles pour aller a la rencontre des populations locales. Les iles Uros , veritables iles flotantes construites a la main de l´homme. Il s´agit d´une communaute indigene qui s´est isole des dangers de la terre et vie la depuis plusieurs centaines d´annees. Ils construisent tout a l´aide de roseau , les iles , leurs maisons , les bateaux etc.... Ensuite nous passons la nuit sur l´ile Takile , logement chez l´habitant. Nous avons meme droit a la fete locale avec habit traditionnel , marrant mais ca fais un peu animation a touriste style club med , pas trop notre truc. La visite des iles conclu notre visite du Perou , nous rejoignons maintenant l´autre cote du lac qui lui se trouve en Bolivie.
Then we leave for Cusco and surroundings.Cusco is lovely with its small paved streets and different neighbourhood. I especialy loved San Blas , meeting place for artists , mucisians , jugglers etc ... and moreover a good place to listen to live music in the evening .We also visit the sacred valley with different inca ruins. The most surprising is Pisac , a small town perched in the mountains. Following a small steep path we arrive a the temple section hidden by the mountain and invisble from the town in the valley. Next part with Machu Picchu , site that noone should miss while in Peru. We take a part of the railtrack zigzaging in the valley to reach Aguas Calientes. From there , waking up a 4 AM for a night climb to reach the site. And then we hurry up to reach Wayna Picchu entrance , hill overlooking the site. We were lucky enough to be in the 400 people allowed to climb. So , 45 minutes more going up on a steep path to discover a lovely view of Machu Picchu. It´s impressive where Incas (or other , noone really know who build the town) settled themselves. Impossible to discover without knowing the exact place , it´s totaly invisible from the valley.Incas were really advanced in building technics and also in astrology , some of the buildings are perfectly aligned with cardinals points.However , they didn´t know the wheel or writing , surprising for advanced people. After the sacred valley , we follow our way down to reach Puno and Titikaka lake shore, the highest navigable lake in the world. We go for a look around the islands to meet local people. Uros isles , truely floating islands build by men. It´s an indigene community which isolated themselves from dangers on land, and live their since many hundred years. They build every thing from reeds , island , house , boat etc ... . Then we spend the night on Takile island, sleeping with a local family. We even had a local party with traditional clothes , funny but a bit touristy oriented , not really our cup of tea. The visit of those isles closes our trip in Peru , we now go to the other side of the lake which is in Bolivia.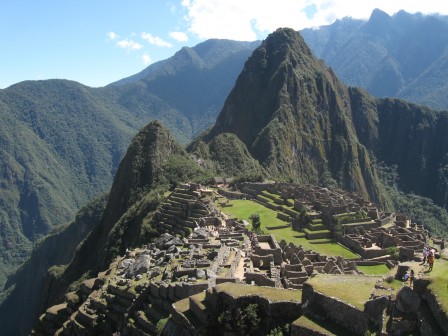 Vue du Machu Picchu , Wayna Picchu au fond/ A view of Machu Picchu , Wayna Picchu at the back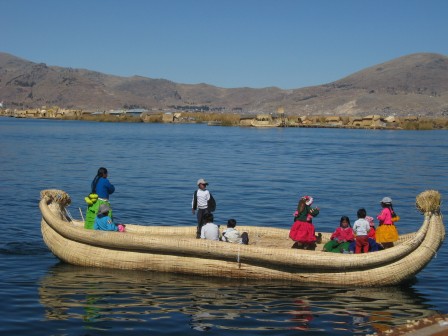 Bateau de roseau et les iles Uros au fond/ Reeds boat and Uros Isles in the back
---
Un peu mitige pour le Perou, il faut dire que nous avons suivi le circuit touristique , du coup une impression de ville moins authentiques. A note aussi beaucoup de francais , le perou c´est la mode ou quoi ? Mis a par ca , les paysages sont surprenant ,il y a de quoi faire entre le desert du bort de mer et les haut plateaux andins. J´ai beaucoup aime la montagne et les ruines. Il reste sans doute des choses a decouvrir, les petits villages moins touristique et aussi toute la partie couverte de jungle a nord. Fidele aux cliches nous avons vu myriades de bonnet peruviens , de la flute de pan a en etre ecoeure et bien sur les Lamas.
A bit of a mixed feeling for Peru, we followed the tourist route , so an impression of not so authentic cities. To be noted also lots of french people , Perou it´s fashion or what ? Beside that , landscape are surprising , there is a lot to see from coastal desert to hight andean plateau. I really loved the mountains part and the ruins. I am sure they are still lots of place to discover , small lost villages and the jungle covered north part. We found every cliche , lots of peruvian hats , pan flute to get sick of hearing it and of course lamas.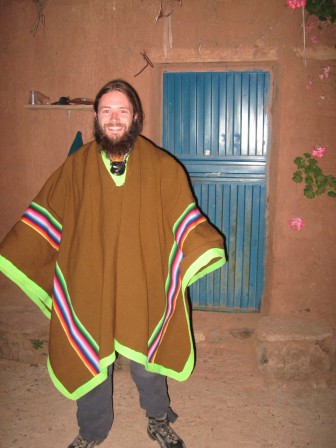 Le poncho traditionnel de Takile/ Traditional poncho from Takile