Thailande , relaxe / Thailand , relax
By Gaetan on Tuesday ,31 March 2009, 07:24 - Travel - Permalink
La visite de la thailande commence par Bangkok , veritable repere de backpacker surtout que nous logeons dans le quartier touristique. Enfin ca fait du bien de temps a autre de se retrouver dans des coins un peu plus civilise.C'est tellement rempli de touriste que j'avais du mal a croire que nous etions en Thailande. Fabrice et Alex , deux amis de Londres sont aussi de la partie , c'est donc a six que nous voyageons maintenant.Pierre et moi ayant pour projet de visiter le Vietnam le mois suivant , nous sommes bloques 5 jours sur place en attente du Visa. Nous avons donc largement eu le temps de decouvrir Bangkok et ses nombreux temples. Nous avons visite entre autres , le Grand palais , ensemble de temples et batiments administratifs , ainsi que le plus vieux temple de Bangkok contenant le plus grand Boudha allonge du pays. Apres la partie religieuse, nous nous sommes plonges dans le quartier de la nuit en companie d' amis francais vivant sur place. Au programme , restaurant local , marche nocture et gogo bar.Chose interessante a Bangkok , il est possible de se deplacer en bateau dans certaines parties de la ville, c' est beaucoup plus fun que de prendre le metro. Avant de nous echapper de la capitale , nous avons passe une journee a Ayutaya, aussi nommee la ville temple. Du fait de son passe en temps que capitale , elle possede de nombreux temple. Nous avons donc passe une apres midi a se perdre dans tout ces temples. Chacun d' eux comportait au moins une represantation de Bouddha, oui oui ils sont boudhistes les Thailandais.


The visit of thailand starts by Bangkok , a real backpaker heaven, espacially when you stay in the tourist area. Anyway it's good from time to time a be in a more civilise area. It was so full of tourist that i didn't feel i was in Thailande. Fabrice and Alex , two friend from London joined us, we are know a 6 people travelling party. Pierre and I plan to go and visit Vietnam the following month so we were stuck five days wainting for the visa. We had plenty of time to visit Bangkok and it's numerous temples. We visited the Great Palace , group of temple and administrative buildings and the oldest Bangkok temple , containing the biggest reclining boudha . After this religious part, we went to the night neighborhood accompanied by to french friends who live in bangkok. On the program ,local restaurant , night market and gogo bar. Something to be noted , in bangkok you can travel by boat in some area of the city, it really funnier than taking the tube. Before escaping the capital , we spent a day in Ayutaya , also named temple city. Due to its past as a capital , they are many many temples. So we spend an afternoon temple crawling. Each temple had at least one Buddha if not many , yes Thai are Buddhist.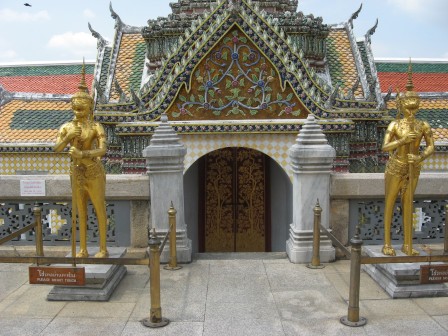 Des gardes Palais Royal/ Some gards from the Royal Palacei
---
Il est temps de monter vers le nord apres ces quelques jours relax a la capitale. Nous commencon par Chiang Mai , point de depart de nombreux treks.La visite commence par les temples , qui je vous laisse deviner , comportais tous un Bouddha. Le lendemain nous enchainons directement sur un trek de trois jours.Par chance notre Guesthouse proposait une formule un peu differente et nous avons pu visiter une zone peu touristique. Le premier jour consistait a rejoindre un village de la tribu Lahu pour y passer la nuit. En chemin nous avons fais une pause au pied d'une cascade , une bonne facon de se rafraichir.Le second jour , la matinee se passe a rejoindre une riviere point de depart de la partie bambou rafting.Cela consite a descendre la riviere sur un radeau de bambou. Le tout etant d' eviter les pierres et de reussir a negocier les virages. Pas toujours evidant au debut , l'aide d'Adele m'a valu quelques passages a l'eau.Le soir nous passons la nuit dans un village de la tribu Lisu.Un village dans les montagnes , ce n'est pas vraiment le conford d' un hotel 5 etoiles.Nous dormons dans des hutes de bambou sur une paillasse a meme le sol.C' est un peu spartiate , mais j'y ai dormi etonnament bien , si on exclu le reveil a 4h du matin par les coqs. La douche , quand il y en a une , se compose d' un robinet en plein air ,a partager avec les poules du village. Le dernier jour , nous avons visite une grotte, sympa l'odeur de merde chauve-souris. Nous avons termine la matinee par une ballade a dos d'elephant.Ce fut trois jours de bonheur en pleine nature , ca recharge les baterries. Le soir meme nous avons approfondis notre connaissance de la culture thailandaise en assitant a un spectacle de boxe thailandaise.C'est impressionnant, ils ne font vraiment pas semblant de taper.C'est ici que Pierre nous laisse ,il doit retourner sur Bangkok suite a la perte de son passeport.


It's time to head north after some relaxing days in the capital. We started by Chiang Mai , basecamp for many treks.The visit started by temples , which as you can guess had all a Buddha inside.Next day we went for a three days trek. Luckily our guesthouse offered an alternative trek , so we visited a non tourist area. The first day we had to reach a lahu tribe village where we spend the night. On the way we had a break by the waterfall , a good way to cool down. On the second day, we walked all morning to reach a river , starting point of the bamboo rafting. It consists in going down the river on a bamboo raft. The idea is to avoid rocks and negotiate curves. Not really easy at first, I landed in the water a couple of time due to Adele's help. We spend the night in a Lisu tribe village.A hill tribe village it's not really a five star hotel comfort speaking. We slept in Bamboo hut on a straw matress directly on the floor. It 's a bit spartiat but I slept really well, excluding the waking up a 4 am thanks to the roosters. The shower , when there is one , is a tap in open air , that you have to share with local chicken. The last day, we visited a cave , lovely bat shit smell.We finished the morning by an elephant ride.It was three day of pure happiness in the middle of the nature , it fills up battery. On the evening we learnt more about thai culture by attending a box thai show. It's really impressive , they are not faking hits. That's here that Pierre leaves us, he has to go back to Bangkok due to the loss of his passport.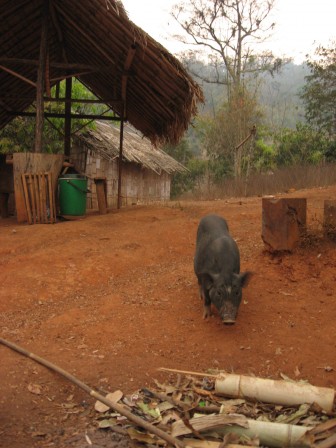 Un porc du village Lahu / A pig from a Lahu village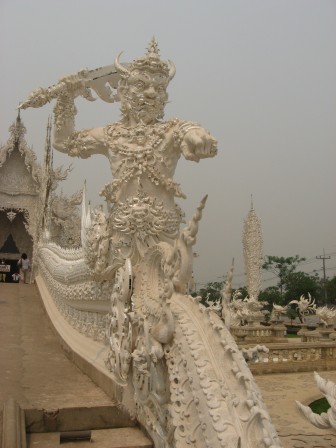 Entree du Temple Blanc/ Entrance of the white temple
---
C'est a cinq que nous poursuivons notre route vers le nord pour nous arreter a Chiang Rai.La-bas, pour une journee, nous avons adopte le mode de transport local , le deux roues.Nous avons parcouru la region a dos de scooter. Mae sai , ville frontiere , nous a permis de jeter un oeil sur la Birmanie. Ensuite nous avons pris la direction du triangle d' or. C' est la region ou se rejoignent la Thailande , la Birmanie et le Laos, devenue celebre a cause des traficants d' opium. Nous avons ete voir ca de plus pres en bateau. Aucun traficant en vu , par contre l'ile appartenant au Laos est remplie de marche attrape touriste.Nous sommes rentre apres ca , histoire de ne pas etre en retard et appeurer encore plus la loueuse de scooter. Elle n'etait deja pas tres rassuree de nous voir partir le matin meme. Nous avons aussi viste le temple blanc , un des temples les plus venere en Thailande. Comme son nom l'indique il est tout blanc et parseme de morceau de miroir. Un superbe exemple de l'architecture moderne Thailandaise. Meme si il est encore en construction il vaut vraiment le detour. C'est l'heure des aurevoirs , Fabrice , Melissa , et Alex repartent en direction de Bankok , me laissant en seul companie de Adele pour la suite.


We are now five people travelling on our way north to stop in Chiang Rai. There we adopted for a day the local way of going around , 2 wheels vehicle. We travelled accros the region on scooters. At Mae Sai, border town , we were able to glance at Burma. Then we rode toward the golden triangle. That's were Thailand, Burma and Laos rejoin , it's famous due to opium dealers. We had a closer look on a small boat. No sign of dealers, but we ended up on small laos island full of tourist market.We went back after this ride , we didn't want to be late and scare the scooter dealer. She was a bit worried when she saw us leaving that morning. We finished our sightseeing by the white temple. It's one of the most venerate temple in Thailande. As its name says , it is all white and sprinkle with bits of mirror. A beautiful example of modern thai architecture. Even if it is not yet finished it's really something to see. It now time to say good bye , Fabrice , Melissa and Alex go back to Bangkok, I am now alone with Adele for the next part of the trip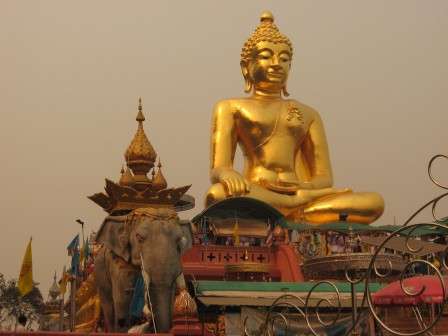 Boudha pres du triangle d'or/ Boudha next to the golden triangle
---
Toujours interesse par ces tribus montagnardes, nous avons trouve une ONG par la quelle nous nous sommes engages comme volontaire. Nous avons donc passe une semaine a vivre avec une famille d' un village Akha. Le confort y est minimal mais ils ont quand meme l'electricite,et l'eau courante provenant des torrents. La maison est plus evolue que les huttes de bambou, le rez-de chausse est en brique et la piece commune de la famille en bois. Nous avions une chambre avec un lit et un sol en terre battue. Le conford on s'y fais , le plus difficile etait la communication , nous ne parlons ni thai ni Akha et ils ne parlent pas anglais , heureusement le mari connait quelques mots. Nous avons quand me reussi a communiquer, le seul probleme c'est que nous ne savions pas vraiment ce qu'il se passait. Nous avons passe beaucoup de temps a attendre. Cote nourriture c'est riz matin , midi et soir accompagne de different legume et parfois des fleurs ou racines bizares.Nous avons aide au travaux journaliers de la ferme, cela inclu jardinage , maconnerie , preparation de nouriture pour les animaux etc... Nous avons meme appris a tailler le bambou pour faire des tasses et des baguettes. Pour couper la semaine, une journee de vacances nous a ete offerte , incluant Akha spa et massage thailandais. Le dernier jour nous avons participe a la ceremonie du riz, se deroulant chez nos hotes.Les Akhas sont animistes et honorent donc les esprits. La ceremonie consiste a faire des offrandes de nouriture, incluant un cochon et un poulet. Puis viens le repas et la ceremonie de fermeture. Apres les offrandes , nous avons vu la cour se transformer en boucherie geante, le porc a ete decoupe en petit morceau , tous y est passe meme les abats. C'est ce que nous avons eu entre autres choses au repas.La ceremonie est aussi l'occasion pour les anciens du village de se retrouver et de partager un verre (ou plus ...) de whisky Akha. Une bien belle facon de decouvrir la culture Akha et de terminer cette semaine.


Still interested in those hill tribes , we found a NGO whith who we volunteered. So we spend a week living with a family in an Akha village. The comfort is really minimal but they have electricity, running water coming from mountain torrent. The house is better than bamboo hut , the ground floor is made of bricks, with the communal room on top in wood. We had a room with a big bed and a ground of trodden earth.We get use to the comfort , the most difficult was the communication , we can't speak Akha or thai and they didn't speak english, luckily the husband know some english word. So we manage to communicate , the only problem was that we didn't know what was going on. We spent a lot of time waiting for some action. About food, it's rice for breakfast, lunch and dinner served with vegetables and some time flowers or some strange roots. Our task was to give a hand for every day work in the farm.We did some gardening , buidings , preparing animal food and so on . We even learn how to make cups and chopsticks out of bamboo. We were offered a day off to rest a bit, including Akha spa and thai massage. On the last day we took part in the rice ceremony, happening at our family's place . Akha people are animist and worship spirits. The ceremony consists of offering food ,including pig and chicken. Then comes the meal and the closing ceremony. After the offering, we saw the courtyard change into a huge butcher's place.The pig was cut into small pieces , everything was used even intestine. That's what we had for lunch. The ceremony is an opportunity for elder people to meet up and share a glass (or more ...) of Akha whisky. A really good way to finish this week.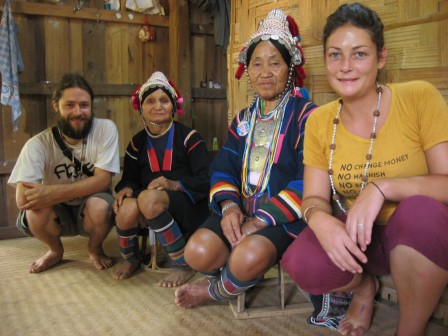 Femme Akha en habit traditionnel / Alha women wearing traditional costume
---
Le lendemain , nous prenons sans attendre la direction du Laos , juste une riviere a traverser et nous y sommes.
Thailande est vraiment un pays reposant , les gens y sont toujours souriant quoiqu'il arrive. Le passage chez les Ahka a ete une bonne lecon de prise de temps de vivre. Ils sont toujours occupe mais jamais presse.


The next day , we headed as soon as possible to Laos , only a river to cross and there we are.
Thailand is really a resting country , people are really smily whatever happen . The week with the Akha family was really a good lesson of taking your time and enjoy life. They are alway busy but never in a hurry.