Vietnam en coup de vent / Vietnam quickly
By Gaetan on Tuesday , 5 May 2009, 09:19 - Travel - Permalink
Pas de probleme particulier pour traverser la douane Vietnamienne , ils ont ete tres gentil. Ca y est je suis au Vietnam ! Par contre je ne sais pas trop ou , une petite ville perdu au fond des montagnes. Heureusement il y a un bus qui va directement a Hanoi.Nous nous embarquons pour une demi journee de bus a travers les petites routes.C'est l'occasion de voir de joli paysage et de se faire arnaquer . Nous apprenons pendant le trajet que nous avons paye double pour notre trajet. Sympa comme premiere approche.Nous arrivons quand meme a Hanoi sans encombre.


No specific problem to cross the vietnamese custom , they were really helpfull. Yeah , I am in Vientam ! In the other hand I don't really know where I am,a small town lost in the middle of the mountain. Fortunately there is a bus going directly to Hanoi. We board for a half day trip through small and bendy roads.A good way to discover lovely landscape and being ripped off.We learn during the trip that we paid double price for the bus. A good start ... At least we reached Hanoi without a problem.


---
Le vieux Hanoi est superbe , plein de petites rues qui s'entrecroisent. Meme apres trois jour sur place, je n'arrivais toujours pas a me reperer, je ne compte pas le nombre de fois ou je me suis perdu.Au hasard des rues nous decouvrons des temples ou autres vieux batiments de style colonial.Les temples et pagoda rapellent l'influence forte de la chine , la plus part du temps les ecrits sont en caracteres chinois.A hanoi , le plus marquant est la circulation tout le monde roule en deux roues. Il n'y a pas vraiment de code de la route , un coup de klaxon pour annoncer sont arrivee et c'est tout. Regarder un carrefour est tout un spectacle, tout le monde s'entrecroise sans se toucher , impressionnant!


Old Hanoi is beautiful, lots of small streets all crisscrossing. Even after three days in town I still had trouble to find my way, I can't remember how many times I got lost. Wandering at random , we discover temple or other old colonial buildings. Temples and Pagoda make you remember the chinese influence, all writing are in chinese symbols. In Hanoi , the most striking is the traffic , everybody ride a motorcycle. There is not really traffic laws , just honking to let others know that you are coming. Watching a crossroad is a show by itself , everyone cross each other without any crash, impressive!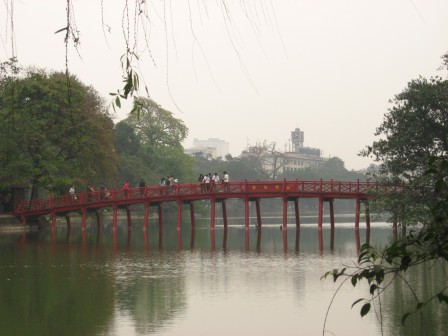 Le pont menant a l'ile de la tortue / Brige leadind to turtle island
---
A partir d'Hanoi, nous allons faire un tour dans la baie d'Halong. Premiere surprise, c' est l'industrie a touriste ,aucun risque de se sentir tout seul.Nous prenons le bateau pour traverser la baie, premier stop les grottes (en companie de 10 autres bateaux).Elle est pas mal et pour une fois la grotte est mise en valeur par quelques eclairages.En fin d'apres midi , c'est la pause kayak, un petit tour au pres des blocs de karsh permet d'apprecier leur grandeur.Nous passons la nuit sur le bateau.Le soir nous testons la mode en asie du sud est , le karaoke. Y a pas a dire ils chantent bien les Vietnamien.Le lendenmain nous poursuivons notre trajet dans la baie , le soleil nous fais la surprise de venir dire bonjour.Ca change le decor, c'est tout de suite un plus .


From Hanoi, we are going to have a look at Halong bay. First surprise , it's really a tourist factory, you are sure to not feel alone . We took the boat to cross the bay , first stop the caves ( with ten other boats). They are not so bad and for once they enhanced it with some lights. In the evening , it's kayak break, a small ride around karsk picks makes us realize their big size. We spend the night on the boat and we test what's famous in south east asia , karaoke. Vietnamese are really good singers. The next day we finish our trip around the bay , the sun surprise us by saying hello. It' s a totally different scenery , a big plus.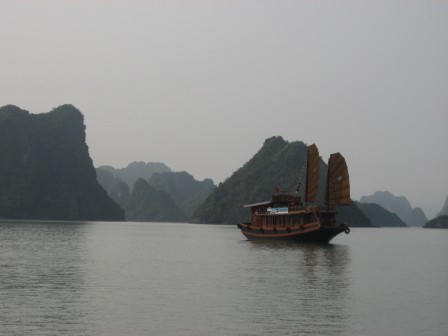 La baie d'Halong / Halong Bay
---
Apres cette viste en mer , je laisse les filles pour descendre plus au sud et m'arreter a Hue.La bas je visite la citadelle et sa petite cite interdite violette.Rien a voir a la version chinoise mais neanmoins un joli coin, J'en profite aussi pour faire un tour dans les tombeaux des anciens rois.Ils rivalisent tous de beaute sans que l'un surpasse l'autre. Je me rend ensuite dans la petite ville de Hoi an ou je retrouve Pierre. La ville est tres charmante , posee au bord de la riviere et parsemee de vieux edifices. A ma surprise il y a une tres belle plage tout pres. Nous en profitons pour nous relaxer au soleil.A dos de moto nous nous rendons dans la jungle pour redecouvir les ruines de My Son. Ca donne une petite impression de Indiana Jones de tomber sur les temples perdues dans les hautes herbes.


After this sea trip , I leave the girls to go down south and stop in Hue. There I visit the citadel and it's small purple forbidden city. Nothing compared to the chinese one but still a lovely place.I take also the opportunity to have a look at ancient kings tomb.They all try to be prettier than the other without one being the best. Then I go to the small town of Hoi an where I find Pierre. The town is really charmy, sat next to the river and dotted with old lovely buildings. To my surprise there is a beautiful beach close by. We take the opportunity to relax and enjoy the sun. Using a motorbike we go into the jungle to rediscover the ancient ruins of My Son. It's an Indiana Jones feeling to come across temple almost lost under big herbs.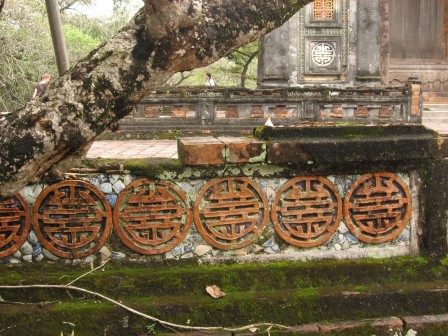 Une decoration de tombeau / A tomb decoration
---
Apres la pause relax a Hoi Han, je laisse Pierre poursuivre sa route et j'entreprends un marathon de bus pour rejoindre le Cambodge. J'ai eu ma dose du Vietnam.Le Vietnam posede de joli coin , par contre c'est trop une usine a touriste pour moi. J'ai eu l'impression que tout le monde essayait de me vendre quelque chose.Peut etre que je ne suis pas alle dans les bons coins.Je garde quand meme de beaux paysages en souvenir.


After this relaxing break , I leave Pierre to go on his way and I go on a bus marathon to reach Cambodia. I had enought of Vietnam. Vietnam has some lovelyplaces, on the other hand it's to much of a tourist factory for me. I had the impression that everyone was trying to sell me something. Maybe I didn't go to the right places.However I keep some nice scenery in mind.