Venezuela , suite et fin partie 4 / Venezuela , continuation and ending part 4
By Gaetan on Thursday , 7 January 2010, 21:41 - Travel - Permalink
De retour après notre périple de 16 jours dans la Gran Sabana , il etait temps de se reposer. Je l'ai joue relaxe pour les trois semaines qu'il me restait au Venezuela. J'avais accès à un PC et internet, du coup j'en ai profite pour reprendre un peu contact avec le monde réel. Me mettre un peu à jour sur les nouvelles et voir un peu ce qui c' était passé dans l'informatique. J'ai aussi profité du parque de l'immeuble pour me remettre plus sérieusement a la jongle. C' est un vrai plaisir de pouvoir jongler tout les jours au soleil. Dans tout ça je n'ai pas beaucoup visité Caracas , de toute façon il n'y a pas grand chose à voir. J'ai tout de même fais le tour "Bolivar" , le musée , la maison , le mausolée , il est difficile de passer a coté du héros national. J'ai aussi profité un peu de la vie nocturne grâce aux expatriés du coin, l'occasion de rencontrer des vénézueliens et de pratiquer un peu plus mon espagnol.
Back from our 16 days trip in the Gran Sabana, it was time for a rest. I took it easy on the three weeks left in Venezuela . I had access to a PC and internet, so I took the opportunity to get back in touch with the real world. Like having a look at the news and checking what was going on in IT. I also used the building park to get back into juggling. It's a real pleasure to be able to juggle every day under the sun. With all that, I didn't really visit Caracas, there is nothing much to see anyway. I, at least, went on a "Bolivar" tour, the museum, the house and the mausoleum, it's hard to avoid the national hero. I also took part in the night life thanks to the local expatriates , a good way to meet Venezuelan and to practice a bit my Spanish.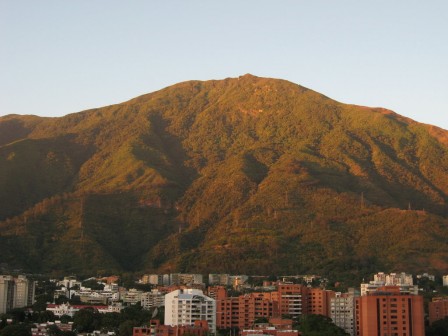 Vue sur le parque national El Avila et le Pico Oriental,
View of El Avila national park and Pico Oriental.
---
Pour la fin, nous sommes enfin aller dans le parque national El Avila où se trouvent les montagnes qui séparent Caracas de la mer. Les montagnes me taquinaient depuis mon arrivé , surtout que je les voyais dès le réveil. Nous partons donc en compagnie de notre ami guide Emilio, cette fois ci pas de porteur. C'est 20 Kilos chacun sur le dos! Plutôt hardcore comme trek, mais le pico naiguata (2765 m) vaut le détour. Au sommet il y a une vue magnifique, la mer d'un coté et Caracas de l'autre. Nous avons même vu une pluie de météorite la dernière nuit.
For the end, we finally went to El Avila national park where are situated the mountains that separate Caracas from the see. Those mountains have been teasing me since I arrived, especially when you see them as you wake up. We went with our guide friend Emilio, this time no porters. It's 20 kilos each on the back! Kind of hardcore trek, but Pico Naiguata is worth it. At the top the view is really beautiful, the sea on one side and Caracas on the other, We even saw a meteorite rain on the last night.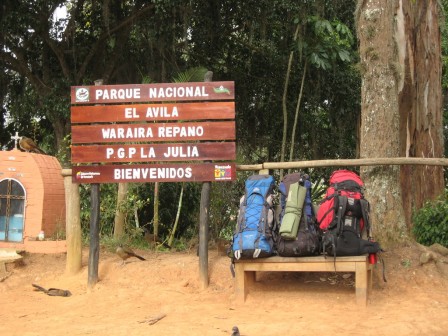 Les sacs au depart / Backpack at the start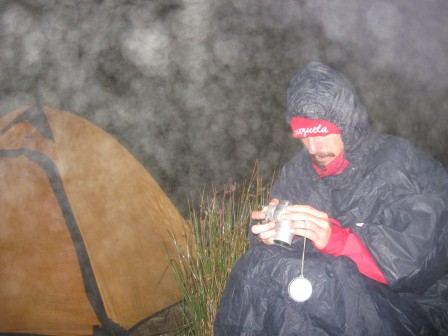 Les joies de la randonnee, intemperie du premier soir/ Joy of trekking, first night bad weather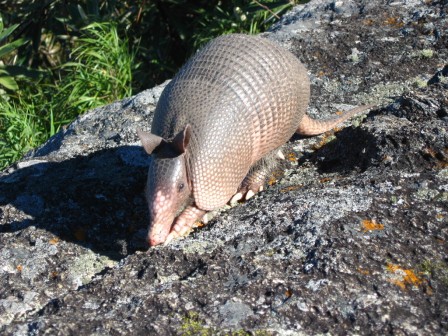 Notre ami tatou / Our armadillo friend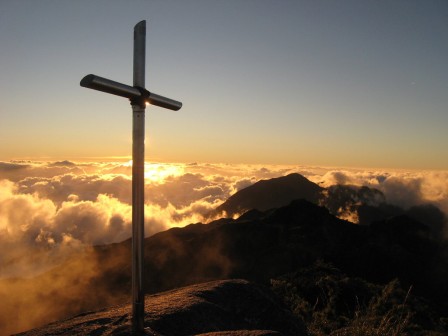 Le sommet du Pico Naiguata / Top of Pico Naiguata
---
Surprenant comme pays le Venezuela, des voitures de tout types , de la vieille américaine des années 60 jusqu'à la dernière voiture indienne de chez Tata. Il faut dire que la-bas l'essence ne coute vraiment rien , en gros pour un litre en Europe eux font un plein de cinquante litres. Le Venezuela donne sur la mer des caraïbes, on le ressent bien dans le comportement des gens , tranquillement est le mot d'ordre. A coté de ça ils sont en général très gentils une fois que vous avez compris l'accent. Mais le mieux reste les grandes étendues de nature à visiter, vraiment superbe. Un pays qui mérite d'être découvert.
Venezuela is a surprising country, cars of all kind , from the old 60's American car to the last Indian car from Tata. I have to say that over there the fuel cost next to nothing, for a liter in Europe they fill a fifty liters tank. Venezuela is situated on the Caribbean sea, one can feel it, take it easy is the motto. Never the less, they are friendly people once you get the accent. But the best are the huge natural area one can visit, really astonishing. A country worth discovering.